Chinese Shares Advance, Yuan Touches Weakest Level in a Decade
(Bloomberg) -- Chinese stocks extended gains as the market regulator said it would encourage long-term funds to invest in shares, while the yuan fell to the weakest since May 2008 before erasing its loss.
The Shanghai Composite Index rose 1 percent Tuesday, building on a morning rally that came as U.S. President Donald Trump spoke about a trade deal. The yuan was up 0.03 percent at 6.9602 per dollar as of 4:40 p.m. local time having earlier weakened to 6.9724. The positive mood didn't roll into Hong Kong, where the Hang Seng Index dropped 0.9 percent, extending its October loss to 12 percent.
Shares were initially lower on the mainland after Bloomberg reported the U.S. is preparing to announce more tariffs if a meeting between Trump and Chinese President Xi Jinping scheduled for November in Buenos Aires fails to make headway. The trade dispute and yuan weakness are key reasons China's stock market has lost more than $3 trillion since late January and why the Shanghai Composite is the world's worst performing equity benchmark.
In an interview with Fox News, Trump said the U.S. could get a "great deal" on trade. He also said China has "drained" the U.S. and that Beijing isn't ready for a deal yet. Chinese shares still rose. A short while later, the China Securities Regulatory Commission said it would increase stock market liquidity, cut trading barriers and encourage buybacks, mergers and investment. Brokers were among the top gainers.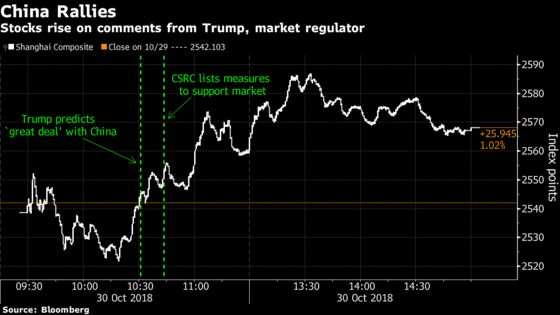 "The CSRC statement boosted market confidence, which resulted in the rally," said Guo Weiwen, a senior analyst at Matrix Partner Capital Management Shenzhen Co. "Whether the rally can be sustained is still questionable, because there will not be any new money coming soon and it will take some time for new measures to take effect."
China's private sector has been punished in the latest leg lower for the country's stocks. Concern over a funding squeeze has taken an index of privately-controlled companies down 18 percent in October, its worst month since data going back to April 2015. That compares to the 9.4 percent loss for a gauge tracking China's state-owned enterprises.
China is trying a raft of measures to arrest the slide in shares, from senior officials including President Xi pledging support for the private sector to the government expediting a law change on share buybacks. People familiar with the matter said the country is also considering a tax cut on smaller cars to revive the industry. That news lifted automakers, with Great Wall Motor Co. and Guangzhou Automobile Group Co. surging more than 8 percent in early trading.
Yuan Approaches Milestone
A front-page commentary on the Economic Information Daily said the yuan is unlikely to weaken past 7 per dollar as China's international balance of payments remains sound and authorities are determined to stabilize the market. The currency has fallen 9 percent in just six months.
"Chinese officials have already indicated they don't want the yuan to break through 7 this year," said Ben Kwong, executive director at KGI Asia Ltd. "The yuan may fall very close to 7 but maybe not beyond that."
China could take a sterner line if the yuan nears 7 per dollar, added Khoon Goh, head of research at Australia and New Zealand Banking Group Ltd. in Singapore. "A breach of 7 could intensify depreciation expectations and cause renewed capital outflow pressures, which will be destabilizing for domestic financial markets," he said. "The potential cost of a weaker yuan beyond 7 look to outweigh the potential benefits at this stage."