Chinese Stocks Rally After Trump-Xi Agreement; Yuan Strengthens
(Bloomberg) -- China's yuan strengthened the most since February 2016 and stocks climbed after presidents Xi Jinping and Donald Trump said they won't announce any new tariffs for 90 days.
The yuan rose as much as 1.09 percent to 6.8830 per dollar. The CSI 300 Index gained 2.8 percent at the close, led by rallies in ZTE Corp., Hangzhou Hikvision Digital Technology Co. and exporters that have most to gain from improving trade relations. The benchmark 10-year government bond yield gained 2 basis points to 3.40 percent.
The agreement means the U.S. will hold off on its prior plans to raise tariffs on $200 billion worth of Chinese goods, which were set to take effect from January. The news boosted risk assets globally on Monday, encouraging strategists at Morgan Stanley to upgrade their already-positive forecast for China's stocks next year. The rally also helped lift equity benchmarks in Hong Kong and Shanghai above key support levels.
"The outcome of the U.S.-China presidential meeting in G20 was better than the market expected," Morgan Stanley strategists including Jonathan Garner wrote in a note. "The agreement to keep talking for 90 days during which tariffs are paused is an upside surprise."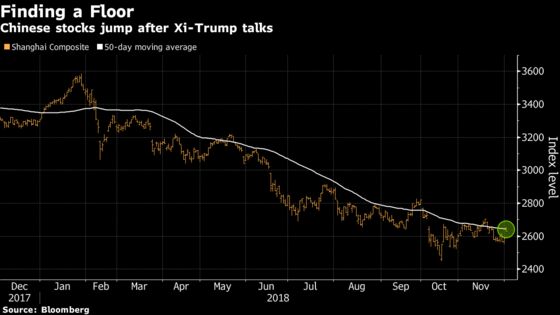 Skeptics say it will take more than a pause on tariffs to turn around the negative sentiment that's blanketed mainland markets this year. Weaker economic growth remains a key overhang for investors, who are still reckoning with soaring corporate defaults and a bear market in stocks.
"The trade situation is slightly better than before but there's no substantial development," said Hao Hong, a strategist with Bocom International Holdings Co. "What we have now is a truce at the best. This may produce a short-term rebound, though the resilience of the rally depends on how soon everyone will begin to see the situation through."
Trump said in a late-night tweet that China has agreed to "reduce and remove" tariffs on imported American-made cars, spurring a rally by Chinese auto dealerships. Foreign ministry spokesman Geng Shuang declined to comment on any changes to car tariffs at a press conference on Monday afternoon.
In Shanghai, China Grand Automotive Services Co. surged 7.1 percent and Pang Da Automobile Trade Co. added 5.4 percent. China Yongda Automobiles Services Holdings Ltd. rose 5.2 percent in Hong Kong.
The Shanghai Composite Index is among the world's worst benchmarks this year, down 22 percent through last week for its worst annual performance since 2008. The yuan has weakened about 9 percent since a high in April.
The yuan pared its gain to 0.98 percent as of 4:13 p.m. in Shanghai. It was trading at 6.8917 a dollar, the strongest level in a month. The offshore yuan climbed 0.93 percent.
The Hang Seng Index rose 2.6 percent at the close, led by Macau casino operators after revenue growth topped analysts' estimates in November. Sands China Ltd. rose 12 percent as the gauge's best performer.