China's Weibo Falls 7.2% in Its First Day of Trade in Hong Kong
(Bloomberg) -- Shares of China's Twitter-like website Weibo Corp. fell in their first day of trading in Hong Kong, signaling continued investor caution toward the internet sector amid Beijing's market-damping regulatory moves.
Weibo declined 7.2% to finish at HK$253.20 on Wednesday, versus the HK$272.80 listing price. Shares were set at a discount of about 2.8% versus the close of their American depositary receipts on Dec. 1. 
Weibo is the first homecoming listing by a Chinese firm since Didi Global Inc. announced last week that it began preparations to withdraw from U.S. stock exchanges while pursuing a listing in Hong Kong. China will issue new draft rules as soon as this month restricting the ability of local companies to list abroad via variable interest entities, Bloomberg News reported Dec. 1.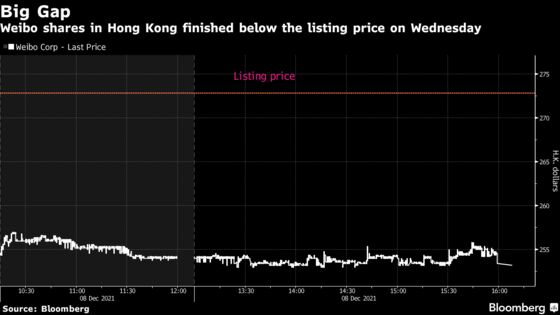 "China's internet sector will continue to be weighed by regulatory uncertainty in 2022 after the rapid and broad-reaching moves by authorities in 2021 across a wide spectrum of companies," Matthew Kanterman, an analyst at Bloomberg Intelligence, wrote in a research note. 
The weak start in Hong Kong comes despite a rebound in global technology shares as China moves to expand economic support and hopes increase that the omicron variant won't derail growth. The company's ADRs finished 4.7% higher in New York yesterday, following a four-day slide.
Weibo's drop on its debut compares with a 15% average gain on the first session for 52 Chinese companies that started trading in Hong Kong this year after raising more than $100 million each, Bloomberg data show.
"The increased threat of delisting of U.S. shares by both American and Chinese regulators as well as the broader regulatory overhang may keep valuations depressed," Bloomberg Intelligence's Kanterman wrote.
Internet pioneer Sina Corp. launched Weibo in 2009, swiftly amassing millions of registered users posting messages of 140 characters or less. It was listed on the Nasdaq in a 2014 IPO. 
Goldman Sachs Group Inc., Credit Suisse Group AG, Citic Securities Co. and China International Capital Corp. are joint sponsors of the Hong Kong offering.