China's Top Performing Stock Is a Wuhan Fever-Detector Maker
(Bloomberg) -- Headquartered at the heart of the coronavirus outbreak, Wuhan Guide Infrared Co. has become this year's best performing stock on the MSCI China Index.
The company, which produces body temperature screening systems to identify people with fever, has seen its shares surge 128% in Shenzhen. The firm's core product can precisely locate individuals with high temperatures in crowds, according to its website.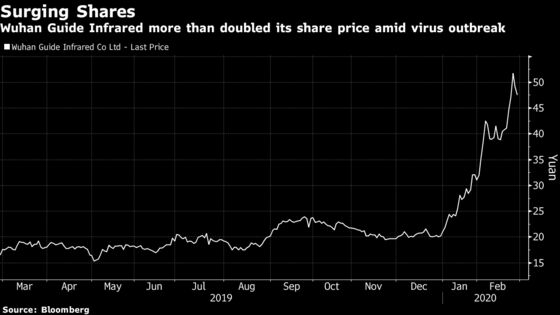 Wuhan Guide has been boosting production to meet nationwide demand for its thermal detectors, supplying railway stations and airports in Wuhan, Chengdu, Guangzhou and Beijing, the firm said in an early February exchange statement. Regulators have been supporting the company's capacity expansion by facilitating raw-material supply and product transportation, it said.
The virus has left tens of thousands sick and caused more than 2,800 deaths globally.