China's Tesla Wannabe to Face Wall Street Reckoning After U-Turn
(Bloomberg) -- One of this year's largest U.S. listings by a Chinese firm is likely to become the subject of Wall Street scrutiny next week. Sell-side analysts are expected to initiate coverage of NIO Inc. on Monday in the wake of its shares reversing course after last month's initial surge.
The electric car-maker represents the largest of four bellwether U.S. listings by Chinese companies to face initiations in the near future amid a jump in cross-border IPOs from China. So-called quiet periods in those stocks will soon expire for perhaps the most amicable analysts on Wall Street: those working at banks that underwrote their IPOs. Especially bullish research could help stop a recent selloff in the group, but bearish commentary could push shares even lower.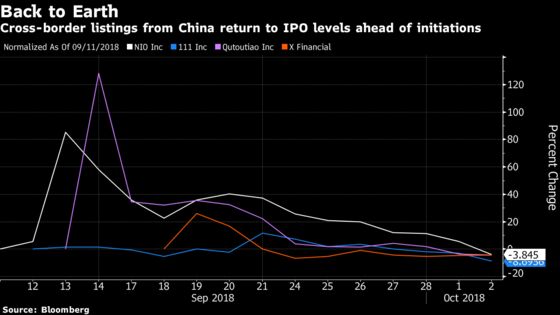 As soon as Monday, research may be published in digital health-care platform maker 111 Inc. alongside that of NIO. On Tuesday, initiations may be published in mobile news platform provider Qutoutiao Inc., which dethroned Zscaler Inc. to set the biggest IPO pop of 2018 only to reverse most of those gains. On Oct. 15, initiations may be published in lending platform X Financial.
NIO's underwriters include Morgan Stanley, JPMorgan, Goldman Sachs, Deutsche Bank, Credit Suisse, UBS, Citigroup and Bank of America Merrill Lynch. Banks on the 111 listing include JPMorgan and Citi.
Citi, Deutsche Bank, UBS and KeyBanc were all on Qutoutiao's deal. X Financial's IPO was underwritten by Deutsche Bank and Morgan Stanley among others. Analysts at banks that weren't involved in the IPO, plus analysts based overseas, may not observe the 25-day quiet period.