China's Stock Sell-Off Is a Buying Opportunity, UBS Wealth Says
(Bloomberg) -- The massive sell-off in Chinese stocks amid concerns over the coronavirus is an opportunity for long-term investors to buy into the country's equities, according to UBS Global Wealth Management.
While the firm recommends steps to soften short-term pain, it still sees double-digit earnings growth for emerging markets and Asia excluding Japan.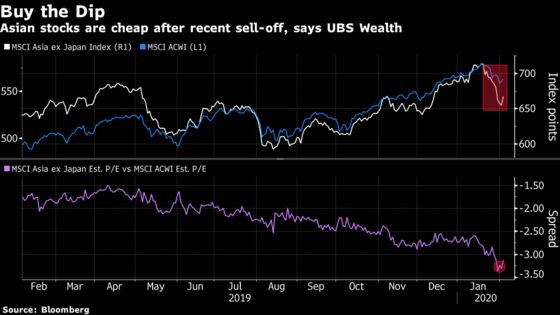 Investors can "consider using the recent decline to gain long-term
exposure to EM equities, which remains our most preferred regional equity
market, and the regional market which we expect to deliver the highest
returns over the long term," Mark Haefele, global chief investment officer at UBS Wealth, wrote in a note.
Chinese shares saw a record $720 billion wiped out in Monday's rout amid the outbreak that's threatening the world's second-biggest economy. Although the market started stabilizing on Tuesday, traders are bracing for wilder swings in stocks.
One way to limit the short-term pain is by avoiding companies exposed to the risk of sharp near-term earnings cuts, such as casinos, airlines, hotels and other travel-related segments, as well as some consumer-related industries, Haefele wrote.
Instead, as more Chinese consumers are stuck indoors following government restrictions, he recommends buying "stay-at-home" stocks such as gaming, e-commerce and food delivery companies. Defensive shares with strong cash flows and high dividend yields are also a good bet, according to UBS Wealth.
The note didn't specify whether the recommendations refer to onshore stocks in China or those listed in Hong Kong and the U.S.
"The short-term growth and earnings impact from the coronavirus may prove to be significant, but will also likely prove temporary, with pent-up demand spurring a sharp recovery in growth later in the year," wrote Haefele.