China's Stock Rout Puts $613 Billion of Share Pledges at Risk
(Bloomberg) -- The rout in Chinese equities is throwing the spotlight on $613 billion of shares pledged as collateral for loans.
Loans extended to company founders and other major investors who pledged their shareholdings as collateral emerged as a popular financing channel in recent years. But given the losses in equities -- Shenzhen's stock benchmark is down 33 percent in 2018 -- there's a growing risk that brokerages will be forced to sell the shares, accelerating the downturn.
At least 36 companies have seen pledged shares liquidated by brokerages since the start of June, more than triple the 10 in the first five months of the year, according to company filings. At least two firms announced after Monday's close that their shares were at risk of forced selling, including Jilin Zixin Pharmaceutical Industrial Co., which plunged by the 10 percent daily limit the following day.
"There's a liquidity crisis in the stock market, and pledged shares are again starting to sound the alarm," said Yang Hai, analyst at Kaiyuan Securities Co. "If there are no real policies to cure the array of problems and ailments in our market, no one will be willing to take the risk."
About 4.24 trillion yuan ($613 billion) of shares have been pledged as collateral for loans, according to Bloomberg calculations using China Securities Depository and Clearing Corp. data, accounting for about 11 percent of the country's stock market capitalization.
Forced selling is adding to the long list of issues facing investors in China's $5.3 trillion market, from worsening trade ties with the U.S. to concerns of slowing domestic demand and a slumping yuan. In a sign of how bearish sentiment is, the outstanding balance of margin debt on China's exchanges has fallen to four-year lows.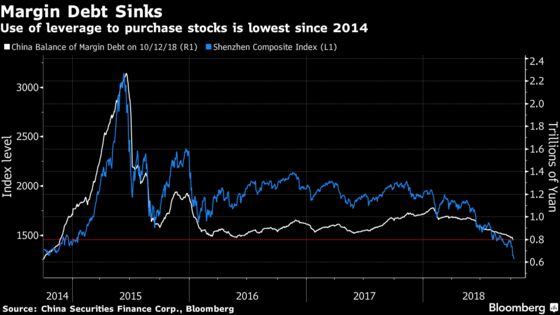 Stocks in the hi-tech hub of Shenzhen have been worst hit, partly due to the dominance of privately-run startups. The city's equity index is on pace for its worst year since 2008, while about one-fifth of the gauge's more than 2,000 stocks have lost at least half of their value.
The central government has taken steps to limit forced selling, but it's failed to slow this year's $3 trillion rout.
Brokerages were told to seek government approval before selling shares pledged as collateral for loans, Bloomberg News reported in June, while the top financial regulator said in August it's closely watching corporate stock pledges.
Even a meeting by the chief securities regulator with investors last weekend didn't engender confidence: The Shanghai Composite Index slumped 2.3 percent in the two days through Tuesday to a four-year low.
Efforts to contain the risk posed by share pledges seem to growing.
State-owned companies and a brokerage in Beijing's technology innovation district of Haidian set up a 10 billion yuan fund ($1.4 billion) to support listed non-state-backed technology firms, the local CSRC branch said this week. Authorities in Shunde, a manufacturing hub in Guangdong province, are considering providing liquidity to some local listed companies, Caixin reported, citing a preliminary plan seen by its reporter.
"The risks in share-pledged loans will continue to grow if the stock market falls further," said Shen Bifan, chief strategist at Shenzhen Spruces Capital Management Co. "Major shareholders usually tend to increase collateral to avoid forced selling. The problem is that some borrowers have already pledged everything they have."