China's Stock Gauge Closes 50% Below 2015 Peak
(Bloomberg) -- China's benchmark stock index is now 50 percent below its bubble-high in 2015, and there's little sign the selling will end any time soon.
An intensifying trade war with the U.S., signs of weakening domestic demand for cars to air-conditioners, and increasing bets the yuan will weaken past the key level of 7 per dollar are all weighing on stock market sentiment. Efforts by the securities regulator to talk up the market failed to impress investors on Monday: the Shanghai Composite Index tumbled another 1.5 percent to a four-year low, cementing its position as 2018's worst global benchmark.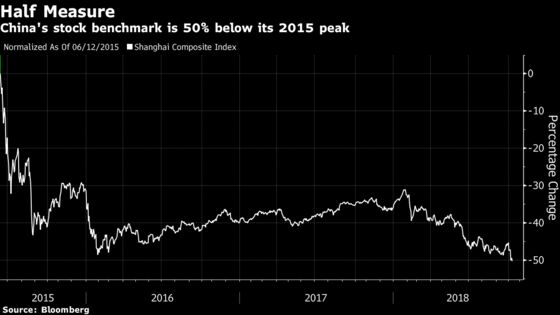 China's government has pushed through efforts to open its markets to the world, gaining a foothold on major global benchmarks as a consequence. While this should be positive in the longer term, increasing the presence of institutional investors who tend to be less speculative, foreigners have turned into record net sellers. A look at a 12-year chart of the Shanghai Composite shows buying and holding is hardly a rewarding strategy in the market, which remains dominated by retail investors.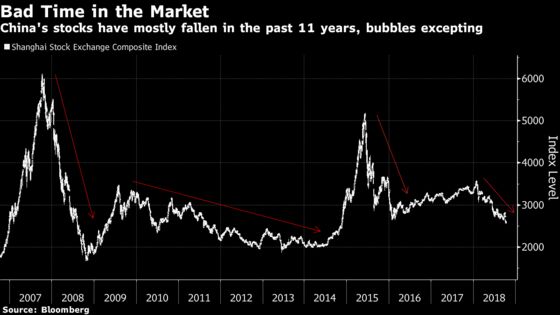 China's stock market is now worth $5.4 trillion, less than Japan's, and only $517 billion above Hong Kong's. In 2015, the difference was as much as $4.8 trillion.