China Stock Bulls Haven't Stuck Around This Long Since February
(Bloomberg) -- China's equity investors are giving Beijing their biggest applause in months.
A phone call between Presidents Xi Jinping and Donald Trump signaled progress is still possible for U.S.-China trade talks, another boost to sentiment following this week's hints from China's leadership that additional stimulus measures may come soon. That helped lift the CSI 300 Index 2.3 percent on Friday, on track for its most sustained rebound since February.
Traders are welcoming efforts to tackle the two most significant risks to growth in China, where another set of data this week confirmed the economy is deteriorating. Chinese shares have shed about $3 trillion in value since January, with investors spooked by a deleveraging campaign that's contributed to a record run of corporate defaults, as well as U.S. tariff hikes on an increasing swathe of Chinese exports.
"With the strong policy support, the market is likely to stabilize and to regain some ground in November," said Fei Xiaoping, an analyst at Dongguan Securities Co. "Recent measures have started to take effect. We're also seeing more and more companies announcing buyback plans and the risks in stock-pledged loans are easing."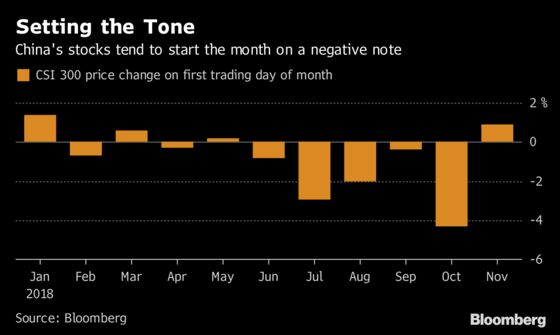 While this isn't the first time officials have spurred a rally, previous attempts in July and April to ease concerns over economic growth proved to be insufficient. Economists say officials, who have taken a far more measured approach to stimulus than in previous downturns, will probably resort to further tax cuts or increasing infrastructure spending rather than make any major tweaks to central-bank policy.
While there was little in the way of details in their statement, Thursday's gain in the CSI 300 Index was the most bullish start to any calendar month since January, breaking with a five-month trend of kicking off each period on a negative note. Foreign investors also piled in, purchasing a record 8.5 billion yuan ($1.2 billion) mainland shares through stock links with Hong Kong.
More encouragement from regulators for brokerages to support the private sector also helped, as well as increasing stock buybacks from listed companies. The threat of margin calls sending China's equity market into yet another downward spiral has prompted a rare coordinated response from policy makers to stem the panic in the past few weeks.
China's equity markets have turned so volatile that gains rarely tend to hold. A more lasting rebound this time would suggest traders finally got some of the reassurance they were looking for that the Beijing "put" still exists.
JPMorgan Asset Management's Hannah Anderson expects more support at the local and provincial level, rather than a sweeping stimulus package. While the drip-feed approach has left investors unconvinced so far, she says evidence that existing measures are working their way into the economy will help lift sentiment in China's financial markets.
"I'd say Beijing is behaving appropriately in taking a very narrow and targeted approach to stimulus," said Anderson, a global market strategist at JPMorgan Asset Management in Hong Kong. "Investors are coming around to understanding that the government is focused more on its longer-term goals rather than mitigating short-term volatility."