China's State Funds Spur Record $7.3 Billion Influx to ETFs
(Bloomberg) -- Chinese investors, including vehicles of the so-called National Team, are marching in to buy the nation's equities. Just not directly.
A total of 255 exchange-traded funds tracking Chinese equities saw $7.34 billion of net inflows in October, data compiled by Bloomberg showed. That's the most for any month and nearly 20 percent more than the previous record of $6.14 billion of inflows during the depth of the 2015 stock rout. The Shanghai Composite Index fell almost 8 percent last month, and is headed toward its worst year since 2011.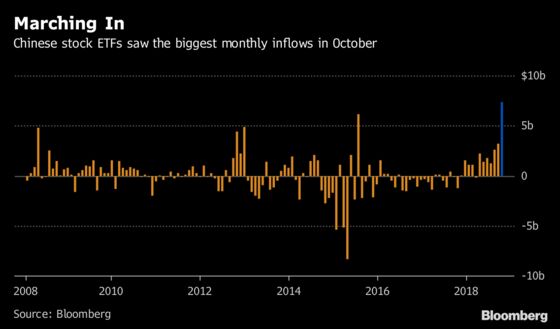 President Xi Jinping last month vowed "unwavering" support for non-state firms, while the country's market regulator pledged to guide more long-term capital in stock markets.
The buying is reminiscent of market-rescue measures taken three year ago, as state funds may have resorted to ETFs to try to put a floor under sliding stocks like it did then, according to Xu Xiaoqing, managing director of Preston Asset Management Ltd. Five funds linked to the National Team sold their stock and bond holdings in the third quarter, also a signal to some analysts that the state funds might be switching gear to passive investment from active intervention.