China's Pummeled Stock Market Is Now Worth Only Five Apples
(Bloomberg) -- China's equity market, having ceded its position as the world's second-largest to Japan, continues to lose value and is now worth five times that of Apple Inc.
At its peak in 2015, China's market cap was more than $10 trillion. It's almost halved in size since then, to $5.73 trillion as of Tuesday. That's 5.3 times Apple's $1.08 trillion value, the lowest ratio since 2012, data compiled by Bloomberg show.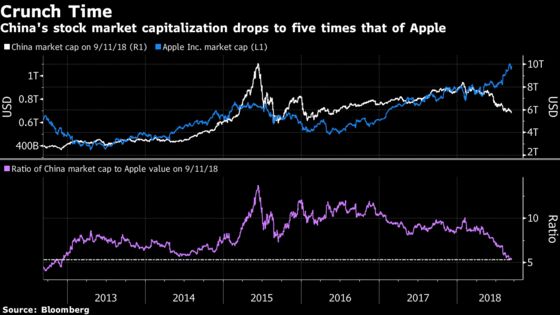 The benchmark Shanghai Composite Index fell further Wednesday, at one point threatening to close at its lowest since 2014 as concern over the trade dispute with the U.S. continues to weigh on sentiment. Investors are largely ignoring valuations below historic averages and attempts by state media to encourage value investing.
With $2.66 trillion wiped off the value of Chinese equities since January, the selloff still looks far from over, according to KGI Securities Co. analyst Ken Chen. "The real bottom for A shares will only emerge when we see a firm rebound in the economy and China completes its deleveraging drive to resolve financial risks."