China's Offshore Creditors Watch for a New Kind of Default
(Bloomberg) -- China's record year for bond defaults might feature one more superlative before the calendar turns: the first delinquency on an offshore security sold directly by a Chinese company.
While Chinese dollar bonds have typically been issued via overseas units, some companies began direct sales three years ago. Among such issuers is Huachen Energy Co., which failed to make a coupon payment last week on its $500 million dollar bond due in 2020 governed by New York law -- though it has said it will make good on the amount by Dec. 18, within the grace period.
Any default could eventually lead to the question of how much recourse offshore creditors have to Huachen's domestic assets -- uncharted waters, given that the interplay between the Chinese and U.S. legal systems has yet to be tested. Huachen's bonds have already been in focus thanks to a proposal by its parent, the defaulter Wintime Energy Co., to include them in an overall restructuring package.
"It is a new situation, and whether that means it is more difficult for offshore bondholders to pursue their remedies is key to market watchers," said Howard Lam, a partner at Latham & Watkins in Hong Kong. "It's unknown at this stage whether the effect of a PRC reorganization order would be recognized by laws in other jurisdictions," he said, referring to the People's Republic of China.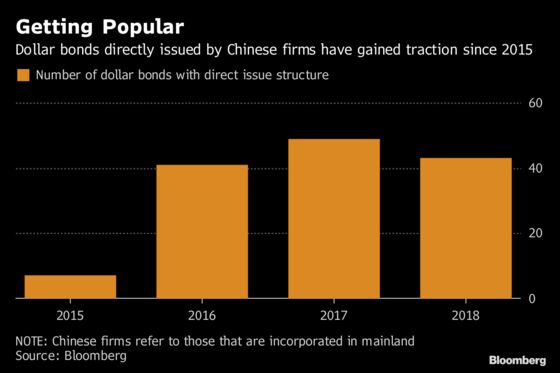 In theory, holding bonds sold by a China-incorporated company should be preferable, as creditors will effectively be closer to the business's onshore assets, said Naomi Moore, a partner at Akin Gump Strauss Hauer & Feld LLP in Hong Kong. But "you are weighing that up against the unprecedented nature of this and the uncertainties involved," she said.
Calls by Bloomberg to Huachen and Wintime, based in the northern province of Shanxi, on the outlook for their payment and possible restructuring plans went unanswered.
The potential test of creditors' standing in a Huachen default is just one of many in a year that's seen delinquent payments on 101 billion yuan ($15 billion) of Chinese bonds, a record. Authorities have been rolling back the long-standing practice of implicit official guarantees for corporate debt, in a broad effort to improve risk-based pricing in China's financial system.
Given prospects for another year of heavy defaults in 2019 -- according to analysts including Yang Hao from Nanjing Securities Co. -- the potential precedent of Huachen becomes all the more important.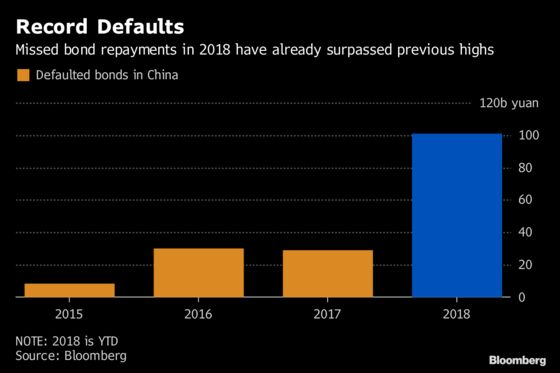 Another test relates to China Energy Reserve & Chemicals Group Co., a major defaulter that said in October it had failed to follow regulations with regard to two dollar bonds. Unlike Huachen, these weren't sold directly, but the parent company guaranteed them. While such guarantees should be registered with the State Administration of Foreign Exchange, China Energy hadn't done so.
"As most structures remain untested, investors can only do their homework diligently -- fully analyzing the credit fundamentals and seriously taking into account protection structures," said Ben Yuen, fixed-income chief investment officer in Hong Kong for BOCHK Asset Management Ltd.
And then? "Decide whether the credit-risk premiums being offered is sufficient," he said.