China's NBA Backlash Ignites Rally in Firms Tied to Local Teams
(Bloomberg) -- China's backlash toward the National Basketball Association has triggered a rally in Chinese companies with ties to the country's top domestic league.
As more local sponsors of the NBA's mainland events suspend their ties with the U.S. league over a tweet that backed Hong Kong's protesters, some companies are seen being beneficiaries.
Qingdao Doublestar Co. rose by its 10% daily limit Wednesday. It makes truck tires, but its biggest shareholder is part-owner of the Qingdao DoubleStar Eagles, a team in the Chinese Basketball Association, according to Tianyancha, a website providing company registration information.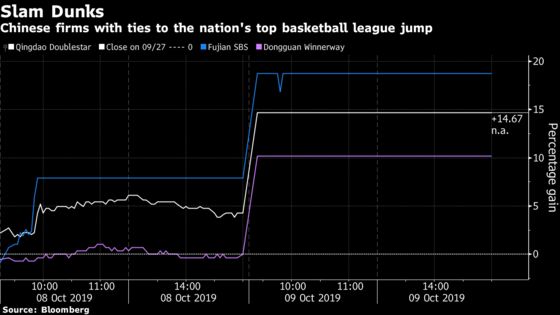 Fujian SBS Zipper Science & Technology Co. makes plastic and metal zippers -- it has gained 21% over the past two days. According to its annual report, its fourth-largest shareholder controls Fujian SBS Xunxing, also known as the Sturgeons. Developer Dongguan Winnerway Industrial Zone Ltd. also gained 10% -- its parent Guangdong Winnerway Holdings Corp. owns Guangdong Southern Tigers.
China is the NBA's biggest market outside the U.S. But that's at risk as the government flexes its economic muscle after a tweet backing Hong Kong's protesters triggered a backlash. State television CCTV and tech giant Tencent Holdings Ltd. said Tuesday they won't show the NBA's preseason games. The furor, triggered by last week's tweet by an official with the Houston Rockets, has imperiled the NBA in a multibillion-dollar market.
"Some investors expect that fans may have no choice but to watch the CBA after the suspension," said Dai Ming, a fund manager with Hengsheng Asset Management Co. Those investors think the CBA may gain increased exposure and get a boost to advertising value, he added, noting that he expected the stock speculation to be short-lived.