China's Hottest Stocks Sink as Beijing Cools Speculative Fervor
(Bloomberg) -- Volatility is picking up in China's most overheated stocks, a sign that this month's $1.5 trillion rally is looking vulnerable.
The ChiNext Index plunged as much as 3.5% Tuesday before paring the decline to 1.1% at the close. The gauge, where a 10% daily cap on individual stock moves will soon double, was up more than 60% this year and near the most overbought on record. Overseas investors sold a record $2.5 billion of China stocks Tuesday.
This month's stock rally in China has pushed the value of the country's market to almost $10 trillion, a level that marked the top of the equity bubble five years ago. Similarities between now and then have started to displease policy makers, who have since last week taken steps to rein in equities. Plans from two state-backed funds to sell shares were announced late Monday, following similar moves last week.
"The recent wave of stake reductions by big funds is a signal that China wants the market to cool down a bit," said Dai Ming, a fund manager at Hengsheng Asset Management Co. Policy makers want "to see a slow bull market that matches the pace of the economic recovery," he added.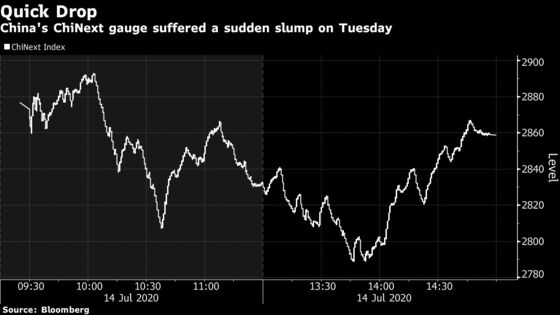 The total value of China's domestic equities has climbed to $9.7 trillion, according to data compiled by Bloomberg as of Monday. The figure briefly rose above $10 trillion for the first time in June 2015, as investors piled into the nation's equities using borrowed funds, before collapsing to below $5 trillion less than three months later. This time round, leverage is again greasing the rally. Margin debt rose for a 11th session on Monday, hitting 1.33 trillion yuan.
Foreign investors dumped a net 17.4 billion yuan of China stocks on Tuesday, the most ever. The previous record was 14.7 billion yuan set on March 13.
The massive amount of Chinese shares that will soon be available for sale for the first time could also encourage some profit-taking. Expiring this quarter are a record 1.35 trillion yuan worth of lockups that prevent early investors and controlling shareholders from disposing of their allocated shares, Jefferies Group analysts wrote in a note dated Monday.
July alone will mark the biggest month for unlocks since 2015 at 597 billion yuan, Jefferies added.
Rising tensions with the U.S. added a gloomier tone to global markets, after the Trump administration rejected China's expansive maritime claims in the South China Sea, reversing a previous policy of not taking sides in such disputes.
Naura Technology Group Co. and Wangfujing Group Co. fell at least 3.8% after saying state-backed funds would sell some holdings.