China's IPO Flops Raise Red Flag Over Pricing of New Shares
(Bloomberg) -- Four companies that went public in China since Friday saw their shares drop below the offer price, bucking a trend of first-day pops and sounding an alarm that the IPO market might be turning riskier. 
Logistics systems provider Wayz Intelligent Manufacturing Technology Co. slumped 13% on its Tuesday debut in Shanghai, after raising $452 million through an initial public offering. A day earlier, medical equipment firm Cofoe Medical Technology Co. finished its first day 4.4% lower, while chemicals producer Sinocat Environmental Technology Co. dropped 6.9% in its initial session Friday and continued to slide this week.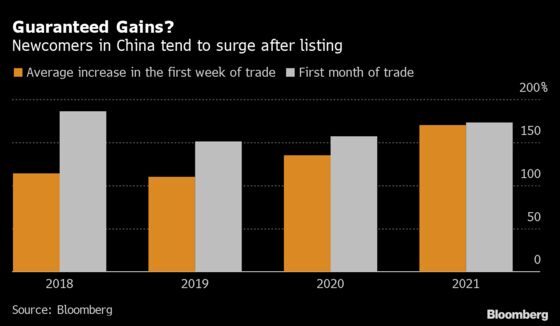 Hangzhou Kaierda Welding Robot Co., a robot equipment manufacturer, fell as much as 6.4% in its Monday debut before erasing the drop and finishing 11% higher. Not for too long: it traded below the listing price again on Tuesday with a 13% plunge. 
Buying Chinese stocks in an IPO was a surefire trade. But the strategy may be losing appeal as financial regulators have stepped up supervision on pricing. The Shanghai and Shenzhen exchanges revised rules last month that included a change to how most institutional investors place their bids. The move was designed to prevent them from putting in similar price quotes to ensure successful subscriptions that the bourses say end up disrupting the market.
More stocks falling below their IPO price breaks the "new-stock-must-rise" mentality and should discourage speculative trading of newly listed shares, the state-run Securities Times reported on Tuesday.  
New shares used to rally on their debuts in China, mostly on the back of a tight approval-based IPO system that capped offering prices with informal upper limits on valuations. Even after registration-based reforms for new listings in 2019, investing in IPOs remained a good bet, with newcomers this year up by an average 170% in their first week.