China Stock Traders Don't Believe in This Hong Kong Rebound
(Bloomberg) -- Chinese stock traders aren't buying the rally in Hong Kong.
Net selling of the city's shares through mainland links totaled HK$2.13 billion ($272 million) on Monday, even as the Hang Seng Index jumped 2.6 percent after the U.S. and China reached a truce on tariffs.
Mainland traders have been sellers for eight days in a row, the longest stretch since August, offloading a total HK$8.25 billion. Tencent Holdings Ltd. is among companies estimated to see the most selling by mainland investors last week, measured as a percentage of free-float market cap, according to Jefferies Hong Kong Ltd. The tech giant jumped 17 percent last month.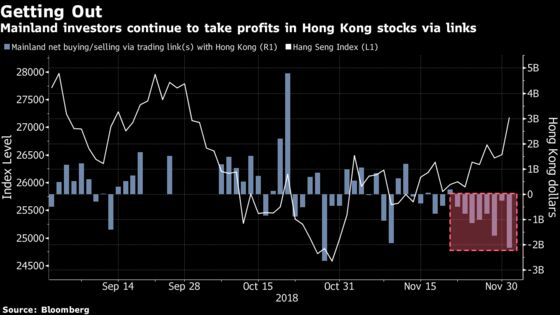 "People may be thinking that today is just a one-day or two-day rebound," said Banny Lam, head of research at CEB International Investment Corp. Mainland investors may be selling Hong Kong shares to free up cash to meet year-end needs, and may also be switching into onshore stocks on speculation they will benefit more from the trade truce between China and the U.S., he said.
Banks, real estate and insurers were also targets of selling last week, Jefferies said.
Foreign investors had few such qualms toward mainland equities. Net buying of yuan-denominated shares through exchange links in Hong Kong was 12.1 billion yuan ($1.76 billion) on Monday, the most since Nov. 2. The Shanghai Composite Index rallied 2.6 percent.
A relaxation in the margin requirement for stock-index futures is helping boost A share inflows, said Mark Tinker, head of Framlington Equities Asia at AXA Investment Managers.