China's High-Stakes Bid to Boost Stocks Risks Inflating Bubble
(Bloomberg) -- Beijing is walking a tightrope between reviving its downbeat equity market and engineering another bubble.
China's securities regulator has started to remove many of the curbs designed to keep out speculators, signaling an end to the highly restrictive era that started when a boom in the country's stocks turned to bust in 2015. The result has been an intensifying appetite for risk not seen in years. A gauge of small cap stocks has surged almost 11 percent over the past four trading days, the most since 2016.
While investors and index providers have called on China to scale back restrictions barring the use of short-selling, leverage and derivatives, critics caution that the misuse of those tools could be dangerous. The concern is that taking deregulation too far may encourage the whirlwind trading that has fueled two massive bubbles in the past decade.
"The risk is that everyone will want a piece of the risk-on momentum that's building now," said Tai Hui, chief market strategist for Asia Pacific at JPMorgan Asset Management in Hong Kong. "It's important that we avoid another roller coaster. It signals authorities no longer think we're in emergency mode, and that's a big confidence boost."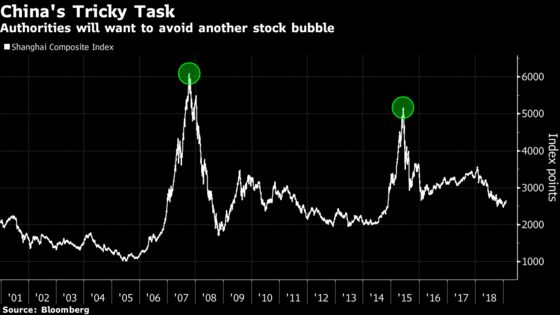 One way to make a rebound less speculative, says Hui, would be to loosen rules for institutional investors only. Increasing the presence of professional money managers in China's $5.9 trillion equity market, which is host to about 148 million day traders, would help shed its reputation as a casino.
Such herd behavior was in evidence following the January appointment of Yi Huiman as chairman of the China Securities Regulatory Commission. The news triggered a rally in shares of companies whose names share the same Chinese character as Yi. The markets watchdog has since revised rules overseeing margin trading and short selling, allowed for a broader array of collateral to be used for certain loans and lowered capital requirements for riskier assets.
The CSRC didn't immediately reply to questions sent by Bloomberg via fax.
It's only natural to draw comparisons to the equity crash that rattled investors worldwide four years ago. The Shanghai Composite Index trades at a valuation that's close to its pre-bubble multiple. Demand for margin financing and average daily turnover is also hovering near levels seen in late 2014. But after stocks lost some $2.3 trillion in value last year, some say recent gains merely reflect the slow revival of China's downbeat market.
"It's too early to talk about bubble risk," said Hao Hong, chief strategist at Bocom International Holdings Co. and one of the few analysts to call both the start and peak of the last boom in Chinese shares. "The market is stabilizing. There is less sense of panic out there."
Strategists at Bank of America Corp. say Chinese equities are unlikely to repeat the kind of surge that preceded the market's last melt-up, predicting the rally won't even last the year.
A stable equity market would be good news for Chinese companies. Many are struggling to raise funds elsewhere after a liquidity crunch spurred record defaults on local Chinese debt in 2018. While a revival in equity-like financing tools -- such as hybrids and private secondary placements -- started to ease some of that pressure, bearish investor sentiment has remained a significant hurdle.
The funding crisis may have helped accelerate China's decision to open up its capital markets. Qualified foreign investors may soon be able buy stocks trading over-the-counter, as well as financial futures, commodity futures, bond repurchases and options, according to a public consultation announced in January. Index provider MSCI Inc. will this month say whether it plans to add more Chinese stocks to its benchmarks, including small caps.
So far the government's efforts to lure more foreign funds are working. Overseas investors pumped a record $8.5 billion into the nation's domestic shares in January.
Still, lessons from history suggest rolling out the red carpet for foreigners will be ineffective if the securities regulator continues to hold a tight grip over trading. The challenge for China in the long run is how to achieve a free and functional market without inviting speculative behavior, according to JPMorgan Asset's Hui.
"It's a really complicated issue for China: you want tools that allow investors to trade their ideas with conviction," said Hui. "This means things like shorting, taking on leverage and expanding the use of derivatives. But you don't want this to encourage the wrong kind of trading."