China's Fund Managers Challenged as Banks Wade Into Industry
(Bloomberg) -- China's new rules for the wealth management units spun off from its gigantic banks could help them grab market share in the $15 trillion fund industry.
Regulations that took effect this week removed minimum investment levels and permitted the entities to invest directly in stocks, putting them in a position to claw business away from other asset managers. Previously the funds could only be directly invested in fixed-income products, limiting the scope for returns.
The decision may have a two-fold impact: China's big banks are controlled by the government, so keeping inflows within this circle tightens authorities' grip on the financial sector. However, concentration of money at state firms could also force a rethink from private players such as BlackRock Inc., which is said to be seeking a mutual-funds license in China.
"The new rules will intensify both competition and cooperation between banks and mutual fund firms," said Wang Yifeng, Beijing-based researcher at China Minsheng Banking Corp. Mutual funds have the benefit of experience but banks have wider client bases and stronger service networks, he said.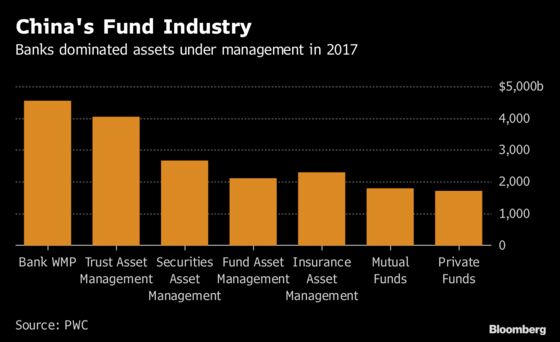 About 20 Chinese banks, including the four biggest state-owned lenders, have announced plans to spin off their wealth management units, with total registered capital of about 120 billion yuan ($18 billion).
Policy makers drafted plans to overhaul China's asset management industry in November, 2017, after the sector ballooned. The market for wealth management products had tripled to more than $4 trillion in a little over three years and, like mortgage-backed securities in the U.S., WMPs had become key building blocks of a shadow-banking system that existed largely off banks' balance sheets.
Key rules for banks' wealth management units include:
Can invest up to 20 percent of own funds into products issued by themselves
Cannot invest in junior tranches of certain wealth management products
Outstanding investment in non-standard credit assets capped at 35 percent of net assets of WMPs
Must set aside 10 percent of fees from managing wealth management products to cover potential risks
Must have at least 1 billion yuan of registered capital
The high capital-level required offers existing mutual funds time to entrench themselves in the market, said Zeng Gang, a researcher at the Chinese Academy of Social Sciences. Yang Delong, chief economist and investment manager at First Seafront Fund, said bank subsidiaries may opt to invest through existing money managers, so incumbents would still have a role to play.
Some of China's top mutual funds are partnerships between local banks and global affiliates. These include ICBC Credit Suisse (a joint venture between China's biggest bank and Credit Suisse Group AG), CCB Principal, and Bank of China Investment, which includes BlackRock as the foreign investor. China's mutual fund market has jumped 30-fold since 2004, when BlackRock's local joint venture was set up.
A Hong Kong-based representative for BlackRock declined to comment on the company's plans in China's mutual funds industry.
"While banks' wealth management units will bring more funds into the market, they will aggravate competition in the entire asset management industry," said Yang. "Those who can deliver good performance and long-term returns will stand out."