China's Equity Rebound Masks a Lot of Pain Beneath the Surface
(Bloomberg) -- There was a whole lot of turbulence in Chinese equity markets despite the biggest weekly gain since September for the Shanghai Composite Index.
While geopolitical concerns took a back seat this week, a streak of bad luck for companies selling medicine or oil, supplying Apple Inc. or operating kindergartens triggered some steep losses. In Hong Kong, we saw another string of small caps tumble despite no apparent news, inviting comparisons to the "Enigma Network" that gripped the city's traders last year.
It's calmer on the currency front. Transactions have plummeted even though the yuan's still hovering around the 6.9 per dollar rate that spooked traders just last month. Chinese demand for foreign currencies waned in October, a sign that some may have started to find the yuan cheap. Or maybe they're wary of betting against the central bank, especially after getting a strongly worded warning last month. Some bears are finding other ways to play the yuan, circumventing the risk of intervention by shorting proxies instead.
Read more:
Outflows seem contained for now
China's government bonds had their best five days since April, with the benchmark 10-year yield poised to drop for a seventh consecutive week, the longest run since 2015 for the country's sovereign debt. Investors are stepping up bets that more monetary easing is on the way as the economy slows, even though data this week showed some signs of stabilization in October. Still, weak retail sales served as a reminder that the mood for consumers is still downbeat.
The biggest stock in MSCI Inc.'s EM benchmark gave investors some relief after a third-quarter update that was nowhere near as bad as feared. Tencent Holdings Ltd. rallied after showing it can make money from things other than video games, becoming a rare bright spot in what's generally been an awful earnings season for Chinese tech. A big cheer for the options market, which got the 5.8 percent move almost exactly right yet again.
Tencent is still down 29 percent this year and has a lot to prove, as shown by the rush of analysts cutting their price targets after the report.
Hong Kong's equity traders are already winding down for the year. Average turnover this week was the lowest since July, which is quite surprising considering the city's biggest stock reported earnings.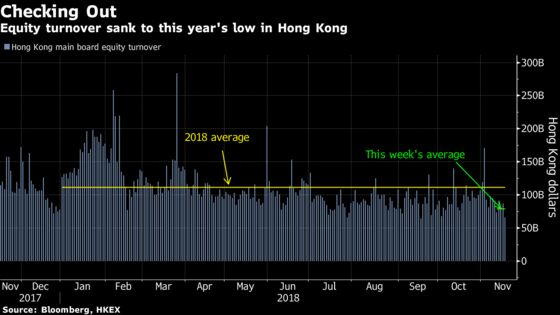 Here's what else caught our eye.
Chinese VC money will leave the U.S. if the trade war escalates.
Fund managers don't hold much hope for the G20 summit.
China's growth engines lose $32 million a minute.
MSCI is bullish on China's equity-market reforms.
More online lending platforms are winding down.
Tencent's about to make yet another investment.
This Shanghai debut went relatively well, considering.
But Hong Kong's IPO market is showing signs of stress.
What's a private company in China?
Economists say the government can borrow more.