China's Best Stock Is Up Twice as Much as Tesla This Year
(Bloomberg) -- Tesla Inc.'s super-charged stock surge is being outpaced by one of its Chinese suppliers, which has gained more than twice as much as the U.S. electric vehicle maker.
Jiangnan Mould and Plastic Technology Co., which supplies parts for Tesla's Model Y in the North American market, rose by the 10% daily limit for a second day on Wednesday. It's the 13th such move this year and extends 2020's gain to 241%. It is the best performer among stocks listed in Shanghai and Shenzhen, excluding a newly listed bio-pharmaceutical equipment provider.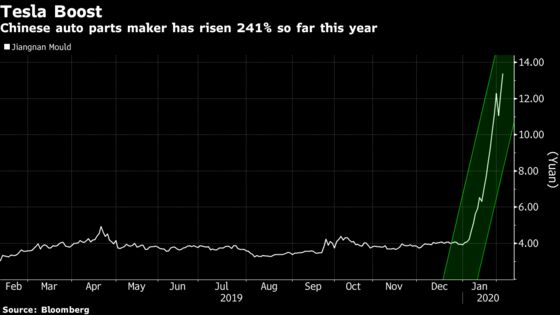 Jiangnan Mould's performance has dwarfed Tesla's year-to-date gain of 112% -- a rise that led Citron Research founder Andrew Left to describe Tesla's stock as "the new Wall St. casino."
Thanks to the stellar performance of Tesla, the firm's Chinese suppliers have become a rare bright spot for mainland traders in a market roiled by the impact of a deadly virus outbreak. The Shanghai and Shenzhen composite indices gained at least 1.3% Wednesday.
Other Tesla suppliers have also rallied. Contemporary Amperex Technology Co., which recently won a contract to supply batteries to the U.S. firm, has seen its shares gain 54% year-to-date.
Jiangnan Mould's surge has also caught the attention of Shenzhen's stock exchange. In a Jan. 13 reply to an exchange query, the firm said it officially became a supplier of bumper and threshold bars for the Model Y last year. The firm said it expects annual sales from Tesla's orders to be around 300 million yuan, or 6% of its 2018 revenue.