China $640 Billion Share-Pledge Risk Looms on Banks, Brokers
(Bloomberg) -- China's brokers and banks account for more than half the exposure to loans backed by company shares, a key source of risk as the country's stock market keeps sliding.
About 4.45 trillion yuan ($640 billion) of shares were pledged as collateral in China's $5.4 trillion equity market as of Oct. 18, according to Chengdu-based research firm PY Standard. Banks and securities firms have extended more than half of that debt. If stock values continue falling, lenders may be forced to offload more shares, perpetuating a vicious spiral.
"If the lenders force the sale of a large amount of collateral to protect themselves, that's bound to aggravate market risks," PY's analysts wrote in a report published Thursday.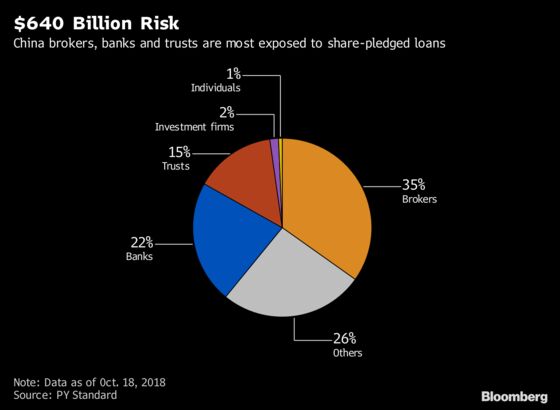 Forced selling is adding to the list of issues facing investors in China, from worsening trade ties with the U.S. to concerns about slowing domestic demand and a slumping yuan. The Shanghai Composite Index is among the world's worst-performing benchmarks this year, and at least 38 companies have seen pledged shares liquidated by brokerages since the start of June, according to filings.
As China's stock rout has worsened in October, attention has turned to companies that have a high proportion of shares pledged for loans, as well as their creditors. Denied credit by mainstream banks amid a deleveraging campaign, private companies were forced to find other ways to obtain capital; S&P Global Ratings estimates about 87 percent of stock-backed loans were issued to non-state firms.
Authorities are aware of the dangers, with a slew of measures announced in recent weeks. President Xi Jinping this month vowed "unwavering" support for the private sector. The People's Bank of China has asked banks not to call back loans "indiscriminately," Sina reported Friday.
Equity at risk of forced selling has swelled to more than 10 percent of total market value from what Moody's Investors Service estimates was 2 percent in 2015. The ratio could increase in 2019, CLSA analysts Alexious Lee and Cara Liu predict.
Yet, they don't see a "crisis" next year as CLSA predicts authorities' steps will ease debt default risks and improve liquidity. Given that the private sector accounts for the majority of Chinese output, CLSA says the government will announce "real concrete measures" in November to support the economy and financial sector, before top leadership meets the following month and parliament convenes in March.
"The market is digesting the pledged share margin calls, but the risks should be contained," the CLSA analysts said in the note.