China's $4.3 Trillion Local Debt Problem Has a 'Vicious' Feedback Loop, HSBC Says
(Bloomberg) -- Xinjiang Production Construction 6th Shi State-owned Assets Management is an agricultural trader and producer that traces its history to Chairman Mao's efforts to develop China's far-flung frontiers.
It is also emblematic of the difficulties facing the country's debt-ridden local government financing vehicles (LGFVs) as China's central authorities attempt to convince investors that the bonds can default, according to HSBC. The company missed payment on a yuan-denominated issue in August, only to fully repay two days later. The catch: Xinjiang Production isn't even a fully-fledged LGFV.
"It is an SOE whose operations are closely connected with local governments," HSBC analysts led by Helen Huang said in a report published late last week. "It is more understandable when support is given to an entity that is widely recognized as an LGFV."
Confusion over China's willingness to support obligations issued by its multitude of LGFVs risks frustrating the country's ambitions to reduce debt levels and revamp its markets. Chinese authorities embarked on a local-government debt swap program in 2015, aimed at refinancing 15.4 trillion yuan ($2.2 trillion) of non-bond debt including LGFV obligations with municipal bonds -- and fixing a perception that China would implicitly back LGFV paper.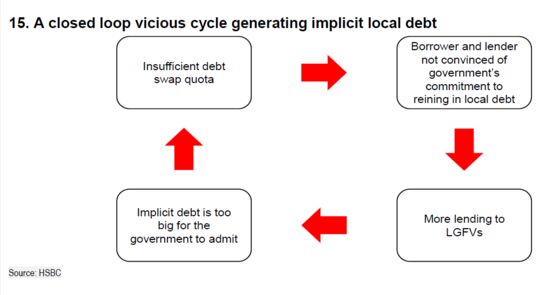 "The market is quite concerned about China's high corporate debt levels and fast growing household debt, so China is understandably eager to show healthy government debt levels as evidence of its debt sustainability," the analysts wrote. "We think this is the key reason why China has been pushing back strongly on the idea of officially admitting more implicit government debt."
But reluctance to include implicit debt in official numbers creates a "vicious cycle," according to HSBC, in which the government refuses to up its local government debt swap quota for fear of increasing its explicit debt burden. Investors then doubt the government's seriousness about reducing local debt, which leads to more lending to LGFVs.
"Thus the market concludes that there is not much regulatory risk to continuing to lend to LGFVs," they said. "Such lending adds even more implicit debt to the government, which has the effect of making its debt swap quota even smaller relative to its real debt level. And the cycle starts all over again."
The loop goes some way towards explaining why LGFV debt outstanding continues to rise even as the government ostensibly attempts to reduce it.
HSBC estimates that LGFV debt rose from 17.6 trillion yuan outstanding in 2014 for the 1,784 such vehicles for which data is publicly available to 27.1 trillion yuan in 2017. Incorporating an estimate for LGFVs that don't have publicly available data would increase the figure to at least 30 trillion yuan, HSBC said.
Breaking the feedback loop requires the government to increase the swap quota to a "more convincing level," HSBC said -- or allow an onshore LGFV bond to default for the first time.
"What lies ahead is going to be a discovery process for both the market and the government," HSBC concluded. "And the cost of such discovery is a constant swing of government policies between deleveraging and growth, and the uncertainties that come with it."