China Rout Prompts Rethink of How to Split Stocks and Bonds
(Bloomberg) -- China's regulatory clampdown is prompting global investors to reassess how they split their portfolios between stocks and bonds.
The Shanghai Composite Index, which in July just suffered its worst month since 2019, trades near the cheapest level relative to government bonds in more than a year, data compiled by Bloomberg show. But even that's not tempting global investors such as Amundi Group, given policy risks may linger at least in the short run.
"There is sufficient uncertainty at this time to be cautious on China Internet and by extension other impacted sectors and China in general," said Nick McConway, a London-based Asia ex-Japan equities portfolio manager at Amundi. The asset management company oversees $2.1 trillion. "We have cut our exposure meaningfully since the beginning of the year, going from very overweight to somewhat underweight China."
Beijing's crackdown on everything from private education to the largest tech firms triggered a $1 trillion global selloff last month, making shares listed in Shanghai and Hong Kong some of the cheapest in Asia. The rout is in stark contrast to a rally in Chinese government bonds, which in July posted the biggest monthly advance since early 2020, amid bets the central bank will ease monetary policy to aid growth.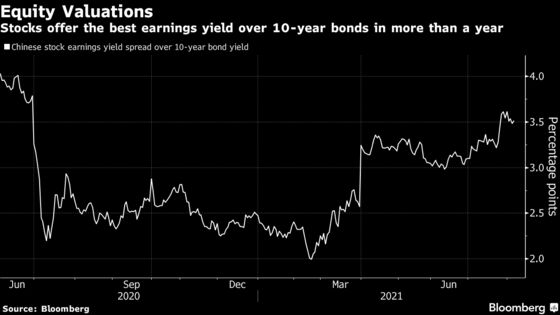 The yield on 10-year government bonds dropped 24 basis points last month to a one-year low, while shares listed in Shanghai plunged 5.4%. That sent equities to their cheapest compared with debt since June 2020, according to Bloomberg calculations based on the sovereign yield and the earnings yield on the Shanghai Composite Index.
While government bonds aren't appealing from a valuation point of view due to their recent rally, they are still a good bet as China's economy will continue to weaken, JPMorgan Chase Bank analysts Tiffany Wang and Grace Ng wrote in a report. The notes are also buoyed by foreign inflows, with overseas funds last month boosting their holdings of yuan sovereign bonds at four times the pace seen in June, official data show.
"With renewed risk aversion over regulatory clampdowns, Chinese bonds as safe havens should be in a better spot than equities," said Chang Wei Liang, a macro strategist at DBS Bank Ltd. in Singapore.
Still, some bargains will emerge in the longer term if shares continue to slide, said Amundi's McConway. The latest positive sign for the market came Wednesday, when Chinese investors turned into net buyers of Hong Kong stocks after 12 days of selling.
"While we do continue to see near-term downside in the coming quarters, we think the time to redeploy capital is not too far away," he said, adding that investment opportunities will come "as the names reprice to more compelling valuations and the market eventually becomes more comfortable with the Chinese regulatory regime."