China Retreat From Diesel Market Has Consumers Seeking Suppliers
(Bloomberg) -- Diesel consumers are turning toward India and South Korea to alleviate a tight market after China cut exports to avert crippling shortages.
China's retreat from the export market has coincided with a demand rebound from the pandemic and shrinking diesel stockpiles worldwide. An energy crunch due to coal and natural gas shortages has added further pressure, driving up consumption of the industrial fuel. That's left India and South Korea with the task of helping plug the shortfall, said refinery officials and analysts.
"China used to export diesel to many of the Asian markets," said Mukesh Kumar Surana, the chairman of India's state-run Hindustan Petroleum Corp. "Indian refineries are filling in that space."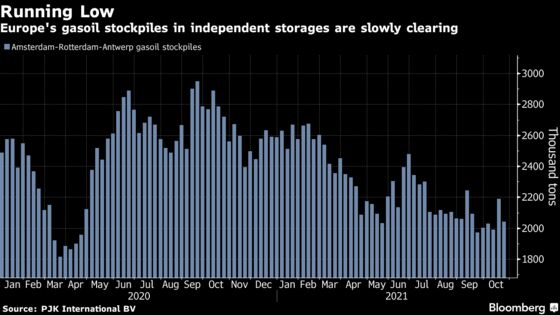 India also sends cargoes to Europe, which Energy Aspects Ltd. predicted would see the largest shortfall toward the end of the year, followed by Latin America and Africa. The global deficit for distillates -- which includes diesel -- is set to widen by 128,000 barrels this quarter from the previous three months, before flipping to a surplus in early 2022, the consultant said.
Diesel stockpiles in independent storage at Europe's oil trading hub are at the lowest for this time of year since 2013 and the continent's inventories are set to keep falling until December. A bullish backwardation structure in European diesel futures has also been signaling a tightening market. South Korean cargoes have been flowing west, as well as to nations across Asia.
Combined diesel exports from India and South Korea rose 21% in September from a month earlier to 1.18 million barrels a day, according to Vortexa Ltd. Shipments eased slightly to 1.13 million barrels a day in October.
Related news:
China Diesel Woes Ease After Intervention With Eye on Cold Snap
China to Halt Diesel Exports Rest of Year on Tight Supply: JLC
Global Energy Crisis Ripples Through Europe's Diesel Market
Europe Could Boost Diesel Imports as Natural Gas Hits Profits
"Global diesel trade flows have picked up in recent months with a strong diesel demand recovery in the west outpacing supply," said Serena Huang, an analyst with Vortexa in Singapore. "We expect global trade flows to remain robust through to December on the back of seasonal strength in Europe."
The Middle East is typically a larger supplier of diesel to Europe than Asia, but Africa is likely to draw on some of those fuel flows after the Natref oil refinery in South Africa starts conducting maintenance in November, according to Energy Aspects. Another key source for the Atlantic Basin could also be Russia, with shipments from the nation set to climb after seasonal refinery maintenance ends this month, Vortexa said.