China-Related ETFs Rally as Investors Pour in Cash Before Voting
(Bloomberg) -- As voters headed to the polls this week for the U.S. midterm elections, what were ETF investors doing? Betting on Chinese stocks.
The Xtrackers Harvest CSI 300 China A-Shares ETF, or ASHR, saw its largest inflow since 2015 on Monday, with investors adding more than $90 million to the $1.2 billion fund. Combined with another $83 million on Tuesday, the fund has already brought in roughly $174 million this week, putting it on track for the largest weekly inflow on record.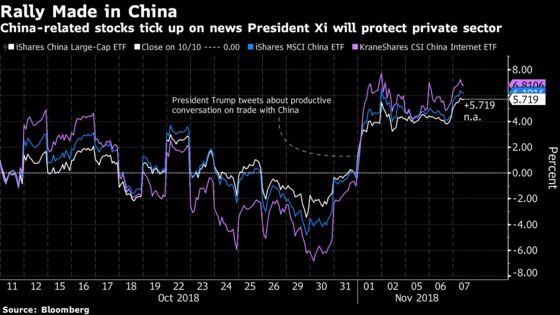 Chinese stocks rallied the most since 2016 last month after the country's President Xi Jinping promised "unwavering" support for non-state firms and the government released a plan to cut personal income taxes. China-related stocks climbed last week following comments from President Donald Trump that he's had productive conversations on trade with the Chinese president.
"Xi has made promises to the private sector that he will defend them and their businesses, and the valuations certainly look attractive," said Andy Wester, senior investment analyst at Proficio Capital Partners. In addition, "you kind of have to have a sanguine view of the tariff situation."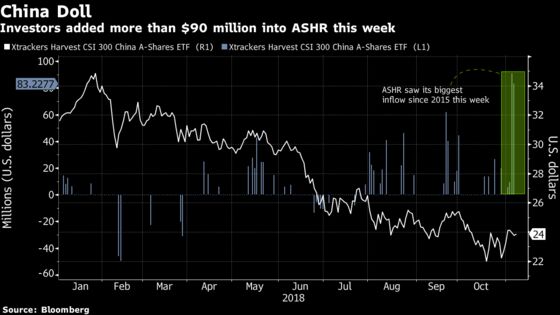 Investors also have been adding cash to the $3.7 billion iShares MSCI China ETF, known by its ticker MCHI, which saw a record $408 million in inflows for the month of October. Money has continued to pour in, with investors adding about $90 million in November. Buyers also have dumped more than $167 million into the iShares China Large-Cap ETF, or FXI, since Friday, while the KraneShares CSI China Internet Fund, ticker KWEB, has seen more than $117 million of inflows over that same period.