China Squeezes Steel Exports Again to Expand Sector Overhaul
(Bloomberg) -- China raised tariffs on some steel materials, and removed rebates on cold-rolled products, as authorities ramp up efforts to overhaul the sector and tame a surge in prices.
The export tariff on ferrochrome -- used in stainless steel -- will rise to 40% from 20% starting Aug. 1, and the levy on high-purity pig iron will increase to 20% from 15%, the Ministry of Finance said. Export tax rebates will be removed from 23 items, including some cold-rolled coil products, it said.
The moves are aimed at promoting the transformation of the industry, the ministry said. Bloomberg News reported plans to adjust fees earlier this week.
The world's biggest steel producer and exporter is revamping its industry to curb pollution, cap production and keep more supply at home. China had already scrapped export-tax rebates and raised tariffs on some products from May. The pivot away from export markets comes after resurgent demand lifted steel prices to a record earlier this year, and may tighten global markets that are seeing a boom in consumption as economies rebound.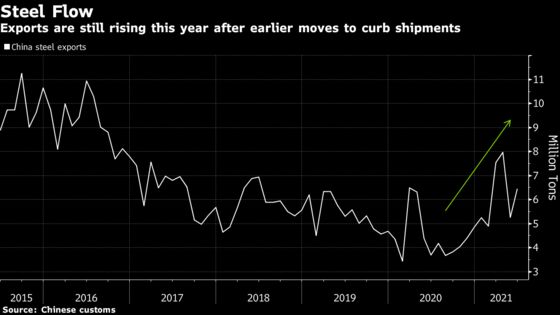 Chinese authorities have implemented patchy output curbs this year, but production has reached record levels amid booming demand and high margins. The government will use lower exports and inventories to offset supply shortfalls as it pushes for lower production in the second half, a researcher at the China Iron & Steel Association said this week.
The country's earlier measures to curb exports have also faltered. After a more than 30% slump in May as the earlier round of levies took effect, shipments jumped more than 20% in June. The latest announcement includes the removal of export rebates on a range of galvanized steels and so-called electrical steels used in transformers, in addition to some cold-rolled products.