China Property Queen Claws Her Way Back With $7 Billion Transfer
(Bloomberg) -- Wu Yajun's transfer of a $7 billion stake to her daughter caps the property developer's comeback after a 2012 divorce robbed her of the title of China's richest woman.
It also marks the distance that billionaire Wu has come since quitting an "iron rice bowl" job in 1988. Her property empire Longfor Group Holding Ltd. has almost doubled in value since the divorce, causing Wu to regain the No. 2 ranking among the nation's wealthiest women.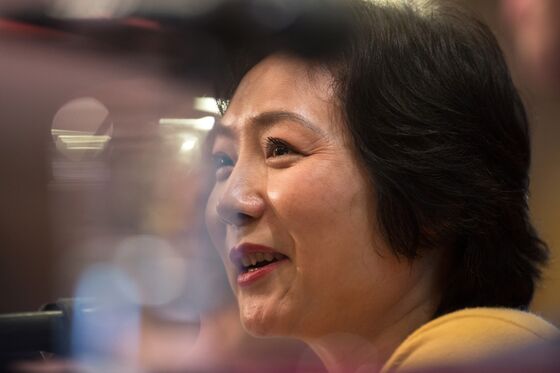 The transfer to a trust created by daughter Cai Xinyi, detailed in an exchange filing on Nov. 22, highlights the phenomenon of riches shifting to the next generation after China became a factory for minting billionaires and millionaires. For investors, there's no apparent change in the co-founder's role.
"The daughter will hold the interest under the trust, but Madame Wu is still in control," said Kaven Tsang, a vice president at Moody's Investors Service in Hong Kong, referring to the billionaire the same way as the company does.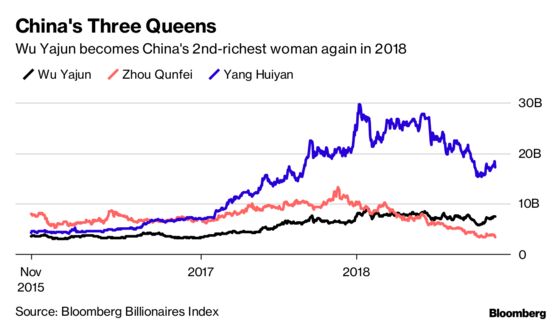 Born in 1964 in Chongqing, Wu's "iron rice bowl" -- or job-for-life -- was at a state-owned factory that made instruments and meters. She quit, becoming a journalist covering real estate. After problems buying her first apartment, Wu co-founded the predecessor of Longfor with then-husband Cai Kui.
In 2009 the company raised $1 billion in an initial public offering in Hong Kong, but Wu's wealth later took a hit when shares were transferred to Cai Kui as part of the divorce.
Billionaires' families have taken different tacks on succession. Theresa Tse became chair of Sino Biopharmaceutical Ltd. by age 24, whereas Wang Jianlin's son has pursued gaming rather than taking over his dad's vast conglomerate.
Wu's daughter, Cai Xinyi, declined an interview request on Friday. Longfor said the transfer was made for wealth planning and succession purposes, but didn't provide more details. It didn't disclose the daughter's trust's beneficiaries. Cai Xinyi will vote her Longfor shares according to her mother's instructions, a company spokeswoman said Friday.
While public information on her is sparse, Cai Xinyi is a director of nine closely held companies, including Charm Talent, a firm based in the British Virgin Islands that is part of the ownership structure of the Longfor stake, Hong Kong company registry records show. She was appointed a director of the companies in 2017, and holds a Hong Kong identification card.
Tsinghua University's website shows that a student named Cai Xinyi, with the same name in Chinese, is studying for a master's degree in computer science and technology. The university didn't immediately reply to a request for comment.
Samson Man, an executive director at CMB International Securities Ltd., said he doubted the $7 billion stake move would alter views on the company because it was merely a transfer of wealth.
Hong Kong-listed Longfor has more than 22,000 employees and plans to open 10 more malls in 2019. The company soared last year and is up almost 13 percent in 2018 even as analysts forecast tougher times for the property industry.
Its stock was among those that jumped after a Politburo statement on Oct. 31 made no mention of housing curbs.