China Oil Demand Growth Gains Pace on Swift Factory Rebound
China's fuel demand is going from strength to strength, leaving the capital blanketed in smog despite concerns a virus resurgence prior to Lunar New Year would derail the robust rebound.
Gasoline and diesel consumption has extended its run above pre-Covid-19 levels this year after the faster-than-expected return of factory activity and infrastructure building following the holiday. The virus flare-up prior to the break threatened to dent demand, but more people took to their cars to avoid being infected and continued to travel locally.
Beijing saw the biggest impact of more cars, experiencing its worst smog in 12 months in early February and there's been little respite since. Major cities in Hebei, the province that surrounds the capital, had medium pollution levels on Thursday, according to the China National Environmental Monitoring Center.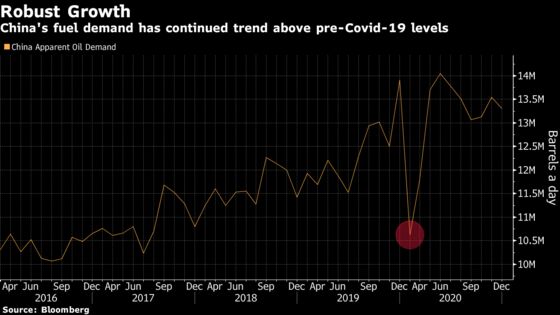 "China's gasoline and diesel demand has picked up its regular year-on-year growth rate since the start of the year," said Sengyick Tee, an analyst with consultant SIA Energy in Beijing. Diesel consumption is up about 10% over the first two months of 2021 compared with the same period in 2019, while motor fuel use is 3.2% higher, he said.
About 79% factories and companies restored full production right after Lunar New Year, much earlier than previous years, according to a survey of over 1,000 energy and petrochemical companies in 30 provinces and regions. The poll was carried out by OilChem and the Development Research Center of the State Council and included trade, logistics and manufacturing companies.
The nation's economy stabilized and improved in the first two months of this year, with power consumption and generation rising by more than 20 percent, He Lifeng, head of the nation's economic planning agency, said on sideline of National People's Congress in Beijing on Friday.
Earlier this year, the virus resurgence in Hebei led to authorities advising people against making the annual pilgrimage to their hometowns for the holidays, raising concerns about a hit to fuel demand. While many chose not to travel far, a report by Baidu map services signaled the movement of people within the cities they lived was higher in 2021 than the previous two years.
Staying at home also led to an unexpected bump in fuel consumption from another source. The postal service collected and delivered over 660 million parcels during the holiday, almost three times more than the same period last year, data from China's Ministry of Transport shows.
People have continued to stick with their cars, with weekday rush-hour traffic in cities like Shanghai over the past week more congested than the same period in 2019, according to navigation company TomTom International BV.