China Money Manager Makes 58% This Year by Doing Nothing at All
Luo Weidong's secret to making good money in China's volatile equity market is not trading.
The founder and chairman of Shenzhen Saiya Capital Management Co. said he hasn't added to his portfolio of smaller-cap Chinese companies since 2016. There's been no selling for several years.
The formula has served Luo well. His flagship fund's net asset value jumped 58% in the first quarter, putting the total since 2015's launch at 1,835%, according to Simuwang.com, a Chinese financial-data provider. Luo confirmed the figures. A $1,000 investment in the fund at inception would have been worth more than $19,000 at March 31.
While he declined to disclose his current holdings to Bloomberg, Luo said the fund has only owned about five stocks at a time. He said he first started trading equities while at university in 1995, using a 13,000 yuan ($1,841) scholarship not for school costs but to put into the market. Two years later, Luo's portfolio was worth 260,000 yuan, allowing him to buy a Shenzhen apartment without borrowings.
"My mission is to hunt for stocks whose price can grow over 10 times," said Luo. "But that job has become harder and harder because economic growth is not as strong as before, business models in China are increasingly matured and there's been concerning signs of deglobalization."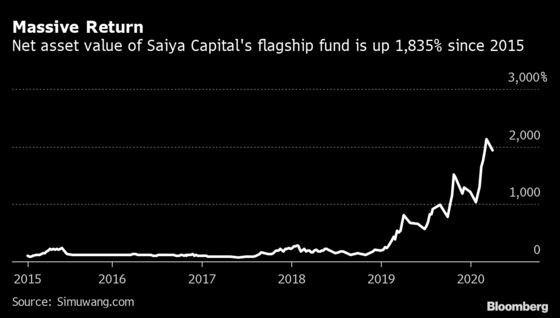 China's major stock indexes are the only ones among the world's biggest markets to have not fallen more than 20% from recent highs and into bear territory. The Shenzhen Composite Index, which includes many smaller and fast-growing companies, has risen 1.3% for 2020.
Saiya Capital manages about 1 billion yuan, according to Luo. He considers himself a long-term investor who seeks out firms "that have the potential to serve China's 1.4 billion people and generate tremendous growth." In looking for stocks which might see a 10-fold price increase, he doesn't have a specific time horizon for that to occur. Luo hasn't bought any stock in several years because he believes he already owns China's best in terms of growth potential.
While screening potential candidates, a key parameter is compound annual growth rates for both revenue and net profit. Also, both metrics should primarily be fueled by the company's main business, not new efforts or investments, Luo said. "That's the way to distinguish between 'true' high-growth companies and 'fake' ones because sudden growth from new businesses or investments could potentially become future risks."
According to Shanghai Securities News, Luo's big winners over his career have included Poly Developments and Holdings Group Co. and Hangzhou Robam Appliances Co. Luo told Bloomberg one of his best trades was buying fintech firm Julong Co. in 2012, which he said netted him nearly 400% after selling in 2014. Shares are currently below that year's levels.
Luo said he seriously considered cutting some of his positions during March's global market rout, with the investor worried about impacts the companies might see from the coronavirus. But Luo is staying the course on the firms, believing in their future growth.
"Many good companies fluctuate a lot. As investors, you need to find good stocks and firmly hold them," he said. "I have no plan to change my holdings any time soon. I believe the firms I'm invested in are far from hitting their ceilings."