China Markets Fight Back as Virus Lays Rest of Global Stocks Low
(Bloomberg) -- American stocks are having their worst run in years. An unlikely source of solace may be China, where prices staged a stirring rebound.
Markets there are way above the bottom of their virus-induced swoon, faring better than U.S. counterparts. Surprised? Chinese officials have for weeks been dispensing stimulus to shore up the world's second-largest economy. Other countries are just now starting to face up to the fallout.
Strategists at UBS Global Wealth Management cite a widening gap between developed and emerging markets as indicative of China's relative success in containment. "We expect this divergence to continue," strategists led by Mark Haefele, the firm's chief investment officer, wrote in a note this week. The team continues to be overweight emerging markets equities.
Of course, viewed from any other perspective, relative performance looks much different. Asian markets aren't breaking records -- they're on the mend. Stocks in the Asia-Pacific, for instance, are still down 8% from their 2020 highs and shares in mainland China are recovering from a mid-January rout that inflicted double-digit losses.
Here's a look at how Chinese markets are faring: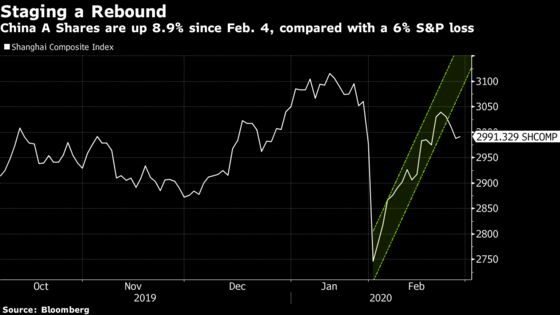 The Shanghai Composite Index has bounced in recent days after dropping to its lowest level in a year in early February amid a mounting death toll from the coronavirus and anxiety about the majority of the economy being shut. Since then, the index has advanced about 9%, compared with a 6% loss for the S&P 500. The Xtrackers Harvest CSI 300 China A-Shares exchange-traded fund, which is invested in the largest firms in Shanghai and Shenzhen, has gained more than 20% this month. Many traders used the fund, known by its ticker ASHR, as an alternative way to gain China exposure while Chinese financial markets were closed around the extended Lunar New Year break.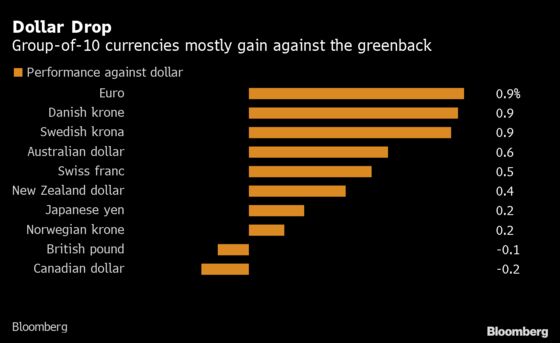 The U.S. dollar is down against most Group-of-10 and Asian peers, including the Chinese yuan. The greenback's lower thanks in part to increased bets that the Federal Reserve will cut interest rates. Money markets are pricing in about 75 basis points of Federal Reserve cuts this year, up from 66 basis points Wednesday, including a quarter-point decline by the end of April.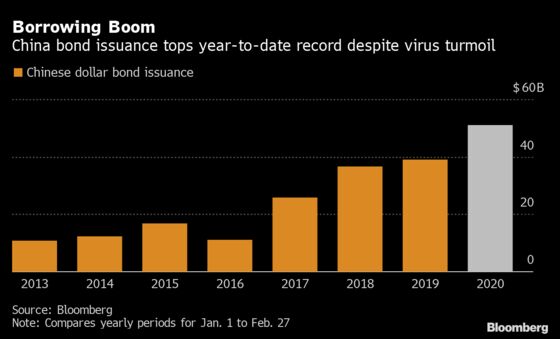 Record sales of corporate debt in China underscore how official support for the nation's financial markets has boosted its resilience to coronavirus-induced stress. Chinese borrowers have raised $22 billion via new issuance this month, the best February to date and up close to 30% from a year earlier.
Read more: No Letup for Corporate Bond Market's Coronavirus Shutdown
In the U.S., Wall Street banks recorded their fourth straight day without any high-grade bond offerings, a rarity. Issuers have largely stood down as investors seek a better understand of the impact the virus might have on growth.