China Liquor Giant Defies Global Slump With $60 Billion Gain
Chinese liquor giant Kweichow Moutai Co. is powering a recovery in the country's stock market, defying evidence of a worldwide slump in demand for booze.
The shares -- the priciest in China at about 1,323 yuan ($187) apiece -- have added almost $60 billion in market value since its March 19 low. Moutai is by far the biggest contributor to gains on the Shanghai Composite Index since then, driving about a fifth of the benchmark's 7.1% move. The shares have closed at a fresh record in eight of the past 11 trading days, and they're also at an all-time high relative to MSCI Inc.'s index of global stocks.
Moutai's rally stands out as distillers around the world struggle with restaurant shutdowns and curbs on social gatherings. Demand for its fiery baijiu liquor -- highly coveted by China's growing middle class -- has held up as distributors hoarded the scarce bottles to prepare for an uptick in sales. Investors have also been encouraged by Moutai's ability to keep raising retail prices for its products, which can take as long as five years to distill.
"To those who consider themselves 'true value investors', the status of Moutai is sacred," said He Qi, fund manager Huatai-PineBridge Fund Management Co. "No one can judge you if you lose money on Moutai. Whatever the valuation, earnings will live up to those multiples in a matter of time."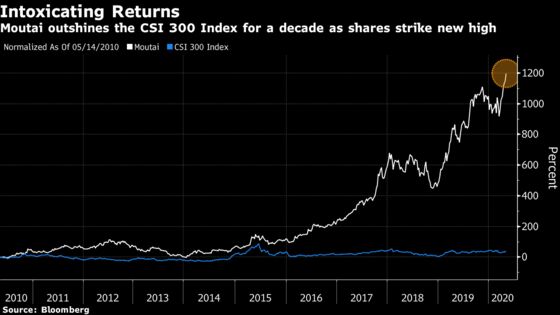 Moutai, the world's most valuable listed distiller, said late April that first quarter earnings jumped about 17% year on year. That contrasts with a loss of $41 million reported by Budweiser Brewing Co. APAC Ltd. for the period. London-based liquor maker Diageo Plc last month withdrew its guidance for sales and profit growth for the current reporting year.
Moutai sales saw "double-digit growth" in March, which was "much faster" than the industry average, China International Capital Corp. analysts led by Ruochen Lv wrote in a recent note. The company has room to increase its average retail price further in the long term, as it's still cheaper than the wholesale charge, Daiwa Capital Markets Hong Kong Ltd. analysts including Anson Chan wrote in a note.
Moutai remains one of China's most loved stocks, even if retail investors now need to shell out almost $20,000 just to make one trade of 100 shares, the minimum allowed in a buy order. That's equivalent to nearly a quarter of the average amount held in retail stock accounts, according to figures from a 2019 survey by the Shenzhen Stock Exchange.
Excitement is building ahead of the company's annual shareholders meeting which usually takes place in late May. Anyone owning a stock is given the chance to network with well-known investors while they drink, talk and buy bottles of Moutai. The company has yet to announce a date for this year's meeting, the first with new chairman Gao Weidong.
Moutai executives didn't immediately return a phone call seeking comment on the date of its investor meeting.
More than 1,400 shareholders attended the Moutai town party last year, nine times the number in 2016 and dwarfing rival Wuliangye Yibin Co.'s tally of 42. The gathering is likely to be held virtually this year due to the coronavirus outbreak.
With popularity comes the risk that Moutai could become China's latest crowded trade. Since December 2014, Moutai has topped the list for the most widely-held stock for investors buying through stock links with Hong Kong. It has also been the most-owned by onshore mutual funds in the past two quarters, according to data from Guosheng Securities Co as of the end of April.
Trading at more than 30 times its projected earnings, some skeptics are warning that Moutai could become overheated. The stock's relative-strength index is at 75, signaling accelerating momentum.
"A popular joke is that investment value changes in inverse proportion to the number of people present at the shareholders' meeting," said Dong Baozhen, a partner at Beijing Lingtongshengtai Asset Management whose flagship fund returned 785% owning Moutai before he started selling in 2018. "That's a very telling factor for this stock."