China Iron Ore Demand Could Keep Payouts Coming, Fortescue Says
(Bloomberg) -- Iron ore demand in China is poised to remain strong and help bolster profits for Fortescue Metals Group Ltd., which joined rivals in boosting returns to shareholders and flagged possible further payouts this year.
There's no evidence of an economic slowdown biting at China's steel mills and their output rose last year, helping to underwrite a turnaround in demand for iron ore, Fortescue Chief Executive Officer Elizabeth Gaines said Wednesday in a Bloomberg Television interview.
"We've seen those trends continue and that's driving strong demand for seaborne iron ore," Gaines said from Perth. "There's significant investment continuing, that's driving demand for steel, and that's driving demand for iron ore."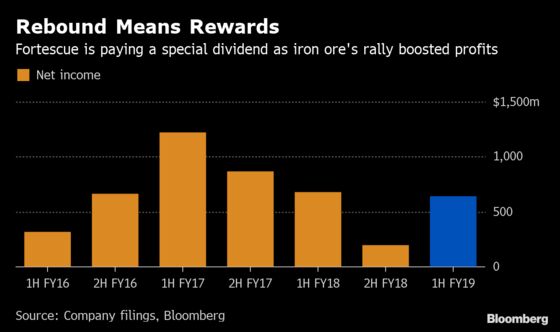 Fortescue earlier reported first-half earnings more than tripled on the previous six months as iron ore demand has proved stronger than expected amid milder winter output curbs. Declining steel mills margins also have prompted customers in China to seek out cheaper raw materials, including the company's lower-grade ores.
The company will pay an interim dividend that beat estimates as well as a surprise special dividend. The moves are a signal that Fortescue "plans to return surplus cash to shareholders," according to a Macquarie Group Ltd. note.
BHP Group, the world's top miner, said Tuesday it had announced returns of more than $13 billion in the past six months, while Rio Tinto Group is forecast to lift its dividend when it reports earnings next week, a move that will extend a bumper program of rewards.
The interim dividend reflected a 65 percent payout of first-half profits and Fortescue maintained its payout ratio of between 50 percent and 80 percent for full-year earnings, the company said. "We will look at the second-half performance when it comes to the time to declare the final dividend and then make a determination" Gaines said in the interview.
The producer's shares closed 5.4 percent higher in Sydney.
Fortescue, which expects to ship between 165 million and 173 millions tons this fiscal year, doesn't have near-term capacity to raise output to meet any shortfall as Vale SA curbs some output following the mine dam disaster in Brazil last month. On Tuesday, BHP also said that it didn't have any additional capacity in iron ore.
"Most of us will be looking at opportunities from maybe some incremental tons into the market," Gaines said. "Sitting here today, we don't have the capacity currently for a material increase into the market in the short-term."
The producer remains in "active discussion" with partners China Baowu Steel Group Corp. and Taiwan's Formosa Plastics Corp. on the potential approval of the high-grade magnetite Iron Bridge project in Western Australia, which could add about 10 million tons a year of premium material. "It's a very active assessment at the moment, " Gaines said. "It is difficult to put exact dates on that, because it is a big decision."