China Human Vaccine Scare Wipes $483 Million From Pig Drug Stock
(Bloomberg) -- China's vaccine scandal is taking a toll in the stock market - even on a company that makes swine vaccines.
Shanghai Hile Bio-Technology Co., which gets its revenue from selling pig and poultry vaccines, has tumbled 34 percent over the last six days as violations by a human vaccine maker triggered a probe into the sector. The company's clarification on July 23 that it never produced or sold human vaccines was little help, as the selloff wiped 3.3 billion yuan ($483 million) off its market value.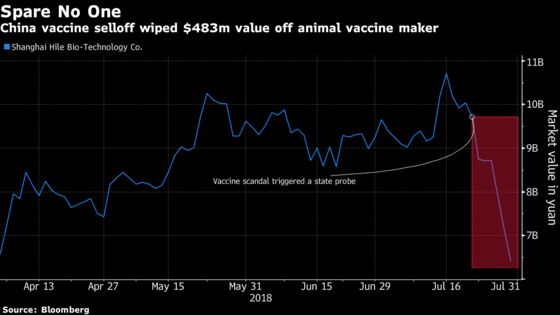 The selloff in health-care stocks intensified on Monday after China's securities regulator said companies with severe violations in areas including public health could be forced to delist. Drugmakers are among areas that are particularly at risk under the stricter delisting rules given the risk of public health incidents, according to KGI Securities. Many health-care stocks were "wrongly implicated" in the selloff, one top-performing fund manager said last week.
Changsheng Bio-Technology Co., which was found to have sold low-quality vaccines for infants, began trading under an investment risk warning last Thursday and dropped by the narrowed 5 percent daily limit for a third day. Chongqing Zhifei Biological Products Co. sank by the 10 percent daily limit while Changchun High & New Technology Industries Group Inc. retreated 6.8 percent.