China Genetics-Linked Stocks Slump as Government Orders Probe
(Bloomberg) -- Chinese companies involved with genetic testing retreated after news that a researcher altered the genes of twin infant girls provoked global outrage and sparked a government investigation.
BGI Genomics Co. and Berry Genomics Co., which both offer gene-testing services, fell at least 3 percent at the close. Harmonicare Medical Holdings Ltd., a private obstetrics and gynecology hospital group linked to the episode, dropped as much as 8.2 percent before eking out a gain.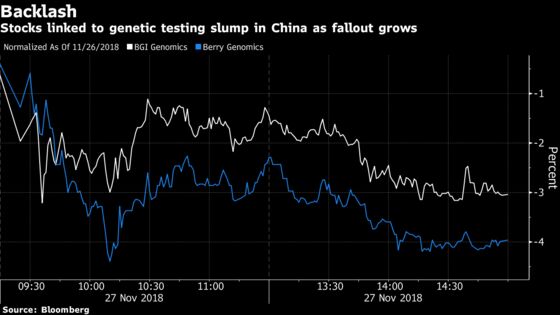 Claims by He Jiankui, a researcher in the southern Chinese city of Shenzhen, that he created the world's first genetically edited babies have prompted a backlash from health officials and other scientists. China's health commission said on its website on Monday it had ordered officials in Guangdong province to investigate.
"Harmonicare's slump in Hong Kong as well as some related share declines in China are due to concern that the government may tighten industry policy after seeing the gene-editing controversy," said Mark Huang, an analyst at Bright Smart Securities. "In many cases, capital and leverage may also bring hidden risks, including social and moral ones. And once the problem becomes bigger, we may see regulatory tightening or structural adjustment in the sector."
Harmonicare Medical Holdings, which owns the hospital that the researcher said he got approval from for his work, rose 0.9 percent at the close. A listing for He's clinical trial on a public database appeared to show an approval form stamped by Shenzhen Harmonicare Women's and Children's Hospital, although that couldn't be independently verified.
The Shenzhen hospital never participated in any clinical operation relating to the "gene-edited babies" episode, and the infants were not delivered in the facility, Harmonicare said in a filing to the Hong Kong stock exchange after the close of trading on Tuesday.
The company's preliminary investigations found that signatures on an application form for review by the hospital's medical ethics committee that circulated on the Internet are suspected to have been forged, according to the statement. Police will be asked to participate in investigations, it added.
An investor relations representative for Harmonicare Medical, said it is investigating the researcher's claims when reached by telephone Tuesday.