Slump in China Gas Shows Spreading Impact of Property Slowdown
(Bloomberg) -- China's property market woes are causing pains in broader parts of the economy, as disappointing earnings drove a major gas distributor's stock to sink by the most since 2000, wiping out $2.5 billion in market value in one day.
Shares of China Gas Holdings Ltd. slumped by 20% on Tuesday, the worst performer in the MSCI China Index. The selloff followed the company's announcement that net income for the six months through September fell 19% year on year, as the number of new residential connections plunged by more than a third.
Property sales in China have been shrinking and new home prices falling after the government's yearlong tightening policy to contain financial risks. Real estate developers are grappling with credit squeezes, epitomized by China Evergrande Group's debt crisis that has led to failures in payments to suppliers.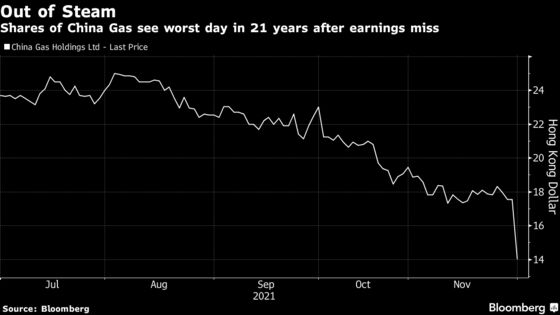 China Gas's results were a "big miss" and represented only about a third of Bloomberg consensus estimates for the full reporting year, Citigroup Inc. analysts including Pierre Lau wrote in a note.
The company "has more city gas projects in relatively small cities (in terms of population and project) hence is more vulnerable to property market downside risk than those focusing more on big cities," they added.
Shares of other Chinese gas distributors also dropped Tuesday but by a much smaller margin, with China Resources Gas Group Ltd. closing 3.1% lower and ENN Energy Holdings Ltd. losing 2.4%.