China FX, Bond Volumes Sink With Virus Keeping Traders Home
China's currency and bond markets have been devoid of traders as coronavirus cases continue to climb. That has made it tougher to gauge the outbreak's market impact.
Daily transactions involving the yuan have on average halved since the market reopened on Feb. 3 after a week-plus holiday, compared to levels over the past year, according to data from the China Foreign Exchange Trading System. Daily turnover on cash bonds have been about one-third its 12-month average.
Some traders on the mainland haven't yet returned to work as firms have temporarily reduced staff in an effort to help curb the coronavirus. Others are working remotely, taking advantage of billions in investment into cloud computing and other virtual infrastructure that financial firms have made in recent years.
Low volumes might mean increased action in China's currency and bonds once more traders return. It also implies the normal arbitrage mechanism between the onshore and offshore yuan will be running less efficiently for a while, leaving the yuan traded in Hong Kong more vulnerable to shifts in investor sentiment in European or North American hours.
"The fact that the FX volumes are only about half means it's not really reflecting genuine transactions," said Khoon Goh, head of Asia research at Australia & New Zealand Banking Group Ltd.. "Factories are still shut, so businesses are still trying to get things back up and running. You don't have the normal exporting or buying activity, so that's reflected in FX volume."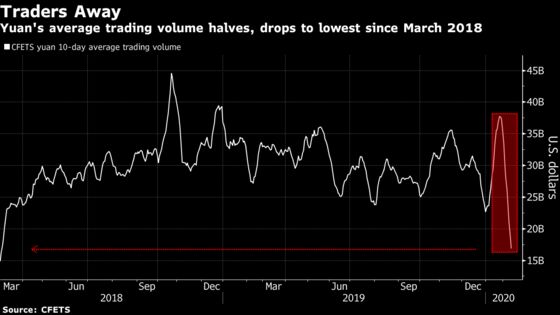 Commercial banks and institutional investors are the biggest players in the country's currency and bond markets. But Chinese stock trading -- which is dominated by retail investors -- has soared as people can easily place bets from smartphones or home PCs. And equities prices have erased much of their post-holiday decline.
As trading volume was low for bonds, 10-year sovereign debt had its best week in five years while investment banks cut expectations on Chinese economic growth for both this quarter and 2020. Ji Tianhe, a strategist at BNP Paribas SA, sees more gains once more market participants return, notably leveraged bond buyers.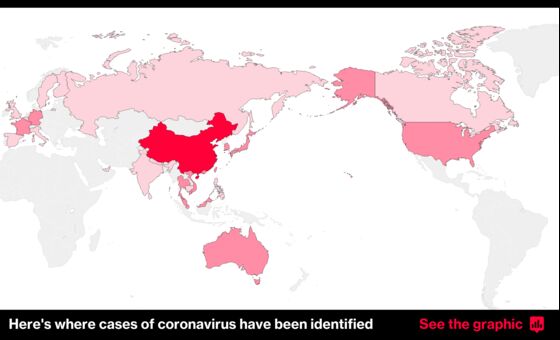 "I think if everyone resumed work, there would be a stronger buying trend in the bond market," he said. "But because many leveraged traders aren't participating, the yields haven't gone down by as much they would if all traders had returned."
Those who have been trading don't believe the lack of activity itself is preventing deals from happening. Rather, the slow action is largely a result of manpower issues.
"Many financial institutions delayed the start of work last week" and are "keeping only the minimum number of staff required," said Chen Peiqi, a trader at Bank of Jiangsu Co. "That shift system will probably continue in the next two weeks."
The spread of 2019-nCoV, which the pathogen is officially known as, has closed businesses of all stripes and transformed city centers into ghost towns. It's also forced the world's largest work-from-home experiment. Traders in Shanghai, Zhejiang and Jiangsu -- provinces that were among the biggest dollar buyers in the onshore currency market last year -- resumed work this week. But yuan volume has only risen modestly.
Low trading levels exaggerated the moves when markets reopened on Feb. 3, said Tommy Xie, an economist at Oversea-Chinese Banking Corp. That's when the yuan saw its biggest decline in six months, weakening through the key 7 per dollar level. It recovered some afterward and has remained slightly stronger than 7 this week. The currency fell 0.07% to 6.9827 per dollar as of 4:41 p.m. Friday in Shanghai.
China's central bank has moved to support the markets by injecting the financial system with liquidity. The People's Bank of China added a net 240 billion yuan ($34 billion) of cash this month and lowered interest rates on reverse repurchase agreements. Still, the total trading volume on pledged repurchase agreements is just half of January's high, a drop-off which hasn't occurred following previous Lunar New Year holidays.
Meanwhile, the Ministry of Finance said this week that local governments can sell another 848 billion yuan ($121 billion) of debt this month. That comes as just 133 billion yuan of corporate notes are expected to be sold in two weeks ending Friday, according to Bloomberg calculations. The figure is about one-quarter what was issued in the two weeks prior to the holiday and 70% of the two weeks following last year's Chinese New Year break.