China Funds Trounce Market, But Clients Are Still Leaving
(Bloomberg) -- A bumper year for stock pickers in China has come with a warning for active managers everywhere: even market-trouncing gains aren't always enough to keep clients happy.
The country's equity mutual funds returned 47% on average in 2019, beating the benchmark CSI 300 Index by eight percentage points, according to Galaxy Securities Co. Investors pulled their money anyway, withdrawing a net $6.4 billion in the 12 months ended December, the latest available figures show.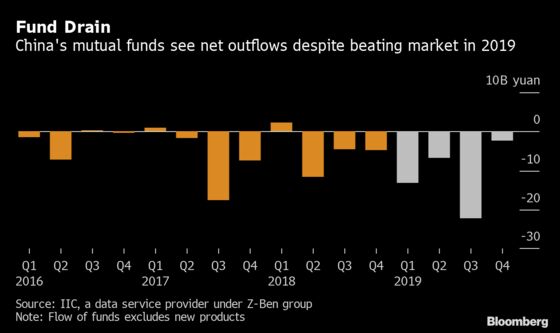 China's $7.3 trillion stock market is often portrayed as a major opportunity for international fund managers who've struggled to beat their benchmark indexes in the West. But last year's outflows suggest winning over the country's investing masses isn't easy.
Local analysts say skepticism toward professional investors is widespread, with many mutual fund clients withdrawing money in 2019 because they doubted the outperformance would continue. Some preferred to pick their own stocks instead, believing they could generate bigger gains in a rising market by speculating on volatile small-caps.
Case in point: The nation's ChiNext index of smaller companies extended its post-holiday rebound on Monday, reaching a more than three-year high. Some attributed the rally to buy orders from millions of Chinese workers stuck at home with idle time to trade.
"The risk preference of mutual funds is too low for my liking, and I don't want to miss out on the high-growth tech companies," said Newton Lu, 36, a salesperson in Beijing who has about 500,000 yuan ($71,539) invested in Chinese and Hong Kong shares. Lu said his stock picks returned about 30% last year.
His preference to go it alone helps explain why mutual funds are relatively minor players in China. They hold just 5% of shares available for trading, versus 29% for individuals, according to Sinolink Securities Co. The country has almost 160 million individual trading accounts -- more than the population of Russia -- and an investing culture that has yet to embrace passively managed index funds.
Chinese policy makers have been trying to professionalize the market in recent years, one reason why they're allowing international firms to take 100% stakes in mutual fund managers starting April 1. Vanguard Group and BlackRock Inc. are among those preparing to jump in.
For stock pickers with star power, there's little doubt that China is an attractive market. Chen Guangming, whose long-term track record is among the country's best, lured more than 70 billion yuan of orders for his new firm's debut mutual fund in a span of just 10 hours last March, blowing past his 6 billion yuan target. One of Chen's old funds gained about 730% in the nine-year period starting May 2009, beating a 47% increase in the CSI 300.
Most of his peers have proven far less successful. As a group, China's equity mutual funds trailed the index for three straight years before 2019, according to Galaxy Securities. Last year's outperformance may have simply reflected the funds' tendency to buy a handful of popular large-cap stocks, which have done especially well of late, said Hou Anyang, partner at Shenzhen Frontsea Asset Management Co.
"The bottom line is that stock-focused mutual funds need to consistently outperform," said Liu Shichen, lead analyst at Z-Ben Advisors Ltd. "Otherwise investors lack reasons to purchase existing products." (The $6.4 billion net outflow figure compiled by Z-Ben for last year excludes newly launched funds.)
Chinese savers typically view real estate as a more stable investment. About 71% of the typical urban household's wealth is invested in property, China's state-run Economic Daily said in an October report. Home values in 100 major Chinese cities rose 54% between 2015 and 2019, according to data from E-House China Enterprise Holdings Ltd.'s research institute, without the gut-wrenching volatility that often comes with owning stocks.
For Zheng Meng, a 32-year-old working in industrial park management in Beijing, China's equity market is more a form of entertainment than a core part of his investment portfolio. And picking his own stocks is far more fun than buying funds.
"Making money is secondary," Zheng said. "To me it's something to spice up the mundane day-to-day."