China Fund Managers Have Low Expectations for Xi-Trump Meet
(Bloomberg) -- A phone call between U.S. President Donald Trump and China's Xi Jinping at the start of November gave the Shanghai Composite a lift and raised hopes progress would be made on trade talks when the two meet at the Group of 20 summit.
Chinese fund managers, however, aren't expecting a sharp reversal in fortunes for one of the world's worst performing stock markets. Indeed, the phone call fillip was short-lived: the Shanghai index fell every day last week. It has slumped 19 percent this year, though it rose 0.4 percent Friday.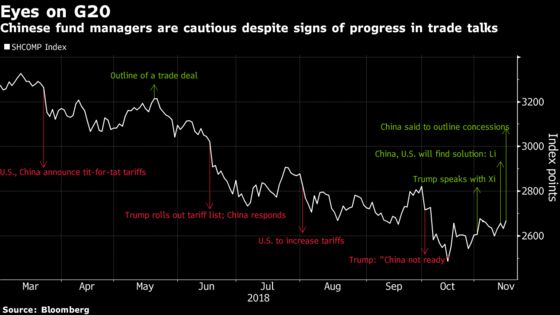 U.S. Commerce Secretary Wilbur Ross said Thursday that higher tariffs are still planned for Chinese imports in January. He also said Trump and Xi's meeting on the sidelines of the G20 in Buenos Aires at the end of November is likely at best to only lead to a "framework" agreement for further talks.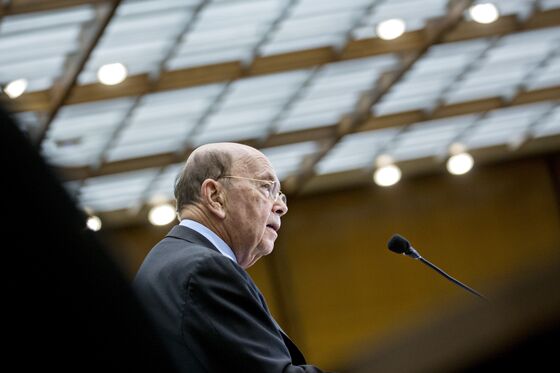 Best Investors Can Expect From G-20 Is Cease-fire: Morgan Stanley
Given the uncertain road ahead, fund managers are treading cautiously.
Wang Jing, fund manager at Qianhai Alliance Asset Management Co.:
The base-case outcome is an easing of tensions, but this meeting will likely be an ice-breaker at most. It's too early to expect substantial progress in talks.
The dominant factor affecting market performance is the balance between short-term economic growth and long-term policies, while the impact of the trade war and the performance of the U.S. market is decreasing.
Wang Zhihong, managing director at Whiterock Asset Management Co. in Shanghai:
The kind of show put on at the G20 won't affect the plot or grander scheme of things.
The market reaction will only last an instant, like what happened during the U.S. midterm elections. Investors will get on their marks and in position to dash, but when the starting gun goes off, the race is already over.
Yu Dingheng, fund manager at Shenzhen Flying Tiger Investment & Management Co.:
We won't trade based on the outcome of this meeting.
The relationship between the two nations going forward will be filled with wariness, one trying to pin the other down.
Yang Wei, fund manager at Longwin Investment Management Co.:
High probability that tensions will ease, though there will be an inevitable price China has to pay on concessions.
There's a slight possibility that talks will disintegrate, but even so, the economy will not.
We have been increasing stocks exposure since the beginning of September.
Yang Ziyi, fund manager at Shenzhen Sinowise Investment Co.:
Don't see the meetings as a window of opportunity, though will buy if shares react positively to a good outcome.
The event may cause short-term ripples but won't change the market's risk preference.
Teng Tai, director at WANB New Economy Research Institute:
Not ruling out the possibility that both sides will make rational, short-term compromises, but when it comes to investing, we can't trade based on our imagination, we can't just bet on it.
The time to buy is when positives are certain.
Yu: The effects of deleveraging have begun to show in the third quarter, but policies are turning positive. Wait until the end of the first quarter next year to see an improvement in fundamentals, but we're no longer that pessimistic.
Hao Deng, chairman and chief executive at Beijing GEC Asset Management Ltd.:
Low valuations aren't necessarily enough to support buying in the near term.
Looking for three key signals: a recovery in credit conditions, which may happen in the first quarter; a rise in buying volume; the external environment stabilizing or taking a turn for the better -- signs of that could come at the G20