China Fund Houses Race to Launch Hang Seng Tech Index ETFs
(Bloomberg) -- Fund houses in Hong Kong and on the mainland are racing to launch exchange-traded fund products that reflect the performance of the nation's biggest technology giants.
At least five asset-management companies on the mainland, including industry leaders China Asset Management Co. and Harvest Global Investments Ltd., have submitted applications to regulators in the past two weeks to issue ETFs tracking the newly launched Hang Seng Tech Index, according to the China Securities Regulatory Commission. In Hong Kong, CSOP Asset Management Ltd. said it plans to list the first ETF tracking the measure on Friday.
Issuing the ETFs in China would give mainland investors exposure to tech gauge member Alibaba Group Holding Ltd., which is not yet available on trading links with Hong Kong. Filings show the fund companies would apply to use Qualified Domestic Institutional Investor (QDII) quotas, which allow mainland institutions to invest in offshore assets.
China Asset Management's Hong Kong unit and Hang Seng Investment Management Ltd. are said to be preparing to launch similar products, according to two people familiar with the matter.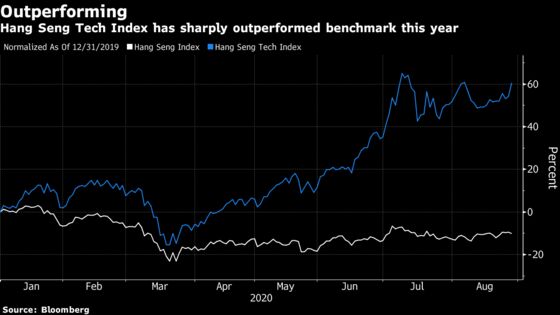 Launched last month, the 30-member Hang Seng Tech Index also includes Meituan Dianping, Xiaomi Corp. and Tencent Holdings Ltd. The backdated gauge has rallied nearly 60% this year, while the Hang Seng Index is down 10%.
"Given mainland and global investors' preference for high-growth stocks, these new tech ETFs will quickly catch up with the existing Hang Seng Index ETFs," said Melody He, managing director at CSOP Asset Management.
The other firms that have submitted applications on the mainland include Bosera Asset Management Co., Dacheng Fund Management Co. and HuaAn Fund Management Co., according to the CSRC.