China-Exposed Global Stocks Are Bleeding the Most in 2016 Replay
(Bloomberg) -- Stocks hitched to the China growth wagon are stalling, with echoes of 2016's slowdown.
Companies that earn a large chunk of their revenues from the country have become market pariahs, thanks to the toxic mix of a trade war, worries over slowing global growth, and the bear market that's engulfing Asian equities.
Indexes tracking both U.S. and global stocks with significant exposure to China plunged about 4 percent each Wednesday, their biggest fall since 2016, according to Morgan Stanley and MSCI gauges. The U.S. measure is on track to post its worst month on record, even with a slight rebound on Thursday.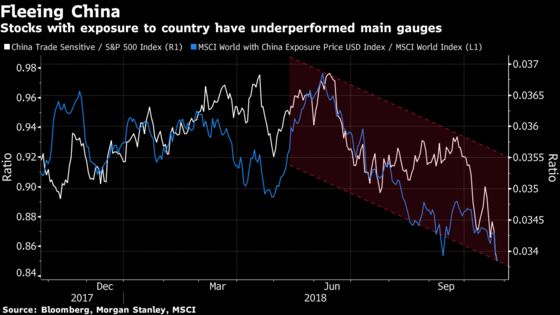 During yesterday's bounce, which sent the S&P 500 up 1.9 percent, the Morgan Stanley index still underperformed the benchmark to trade at its lowest price versus the main equity gauge in over a year.
"The trade war between U.S. and China is unlikely to be resolved quickly and there is growing evidence that it is having a negative effect on emerging market / European activity and confidence," according to Emmanuel Cau, head of European equity strategy at Barclays Plc.
"In a sense, it feels like Goldilocks got eaten by the bears," he wrote in a note Friday.