China Equity Bulls May Find Some Reassurance in These Charts
(Bloomberg) -- Things aren't so bad for Chinese stocks, at least by some measures.
Surging buybacks, favorable fund flows and low valuations are some reasons to be bullish after the mainland market shed more than $1 trillion in value over the past two months. Stocks posted a mini rebound earlier last week, even though concerns over U.S. trade relations with China linger. The Shanghai Composite Index is up 5.2 percent from a two-year low hit on July 5, while equity gauges in Hong Kong also bounced.
"The market has more than priced in negative impacts from domestic deleveraging and the trade war, as China will adjust its leverage reduction and other policies accordingly to counter the trade impact," said Gao Ting, head of China strategy with UBS Securities Co. "We see upside for both onshore and offshore markets in the second half."
Signs of a slowdown in China's economy and a slide in the yuan have also weighed on stocks, which earlier this month were more than 20 percent lower than a January high, putting them in bear market territory. Mainland Chinese equities, or A shares, tend to bottom after falling 25 to 30 percent, according to Tai Hui, chief market strategist at JPMorgan Asset Management. "The big correction is already behind us," he said.
Some analysts aren't so confident about stocks offshore. China International Capital Corp. said short interest is growing in Hong Kong and that could spell more downside ahead, while William Ma, chief investment officer at Noah Holdings (Hong Kong) Ltd., said shares may be more vulnerable and volatile to swings in foreign investor sentiment amid global uncertainty.
Here are four charts showing why Chinese stocks may be set for a sustained turnaround.
Buybacks have hit a multiyear high in mainland and Hong Kong markets, which historically indicates stocks have hit the bottom or are about to reach it soon, according to BOC International Holdings Ltd. Buybacks help support the market and can show management believe shares are oversold, Noah's Ma said.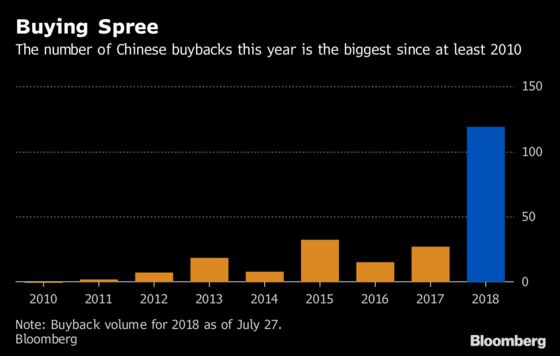 Foreign investors are buying mainland shares again through Hong Kong-China stock links. Northbound purchases waned late last month after MSCI Inc.'s inclusion of mainland shares in its benchmark gauges spurred A-share buying leading up to the event. Southbound flows have also picked up, with mainland investors turning to net buyers this month from net sellers in June.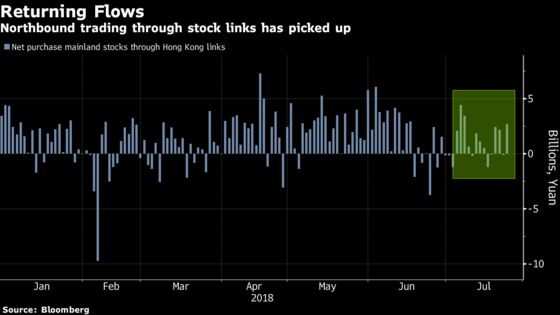 Valuations at Multiyear Low
The Shanghai Composite Index is trading at earnings multiples below the levels when it hit troughs in 2015 and 2016. The gauge rebounded more than 10 percent over a three-month period following those lows. For offshore stocks though, valuations are still elevated compared with previous lows.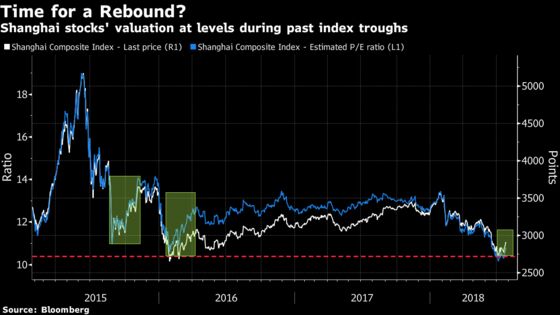 Widening Underperformance
The lagging of Chinese stocks to their U.S. peers has reached levels seen in mid-2014, when mainland markets were about to embark on a $6.7 trillion rally that ended in a boom and bust. While that may sound extreme, the ratio was also around current levels 13 years ago, when the Shanghai gauge began a two-and-a-half year outperformance over the S&P 500.