China Eased Rules to Raise Capital But Then Markets Turned Wild
(Bloomberg) -- When China relaxed financing rules a few weeks ago to help its struggling companies tap capital markets for cash, what ensued was a flurry of issuance announcements not seen in years.
Companies jumped at the chance to sell stocks and bonds in China's easiest regulatory environment since authorities clamped down on additional share offerings three years ago. Demand by Chinese firms to finance through such deals was the highest since 2016 in the first quarter, while March has been the busiest month ever for issuance in China's corporate-bond market.
But those plans are now hitting a snag: volatility in mainland markets means buyers aren't quite so keen on the securities. Institutional investors' interest to buy equities privately is cooling fast, according to five bankers with direct knowledge of the deals, while several companies are delaying or considering postponing share sales. More than 30 firms scrapped their bond-issuance plans in the interbank market in the past two weeks due to yield volatility, according to their filings.
The pullback could complicate government efforts to support corporates while they grapple with the severe slump in demand caused by the coronavirus pandemic. Policy makers have in the past two months unleashed a slew of measures aimed at reducing borrowing costs for companies, as well as removing some of the red tape around financing. Data to be released on March 31 is forecast to show the contraction in manufacturing activity continued in March.
"If the volatility continues, companies will be less capable of securing funding support from the equity market to reduce debt burden, expand business through new investment, or build up their war chests to weather the epidemic impact," said Jiang Liangqing, a fund manager at Ruisen Capital Management in Beijing.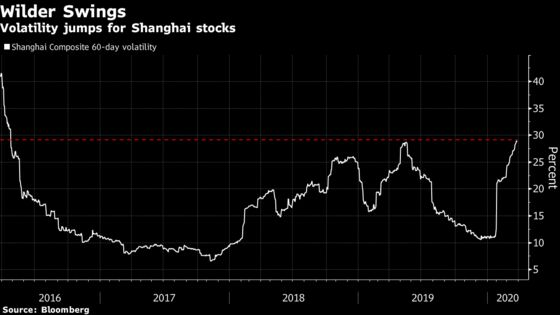 Under new rules, firms now have 12 months to sell additional shares before the regulatory approval expires, twice as long as before. The five bankers, who declined to be named discussing clients' plans, said some corporates now prefer to wait until market conditions improve.
Analysts and fund managers surveyed by Bloomberg say mainland stocks are expected to enter a bear market within the next three months. The CSI 300 Index has tumbled about 12% since a two-year high this month, wiping out almost all of the $1.3 trillion rally in Chinese shares. A measure of 60-day volatility in the Shanghai Composite Index is near the highest in almost four years.
Take Bank of Ningbo Co. for example, which in December obtained the regulator's approval to raise 8 billion yuan ($1.1 billion) through a private share placement. The bank's board is taking more care in choosing an appropriate window to launch the share offering if the market continues to fluctuate, an investor-relations representative said by phone on March 26.
A similar wait-and-see approach is also evident in the corporate bond market as issuers look for lower borrowing costs. While onshore corporate debt sales in March have exceeded 1.7 trillion yuan, the number of scrapped deals also surged in the second half of the month. The pace of cancelations in that two-week period was about six times faster than in the prior period, according to filings made to the National Interbank Funding Center.
Many of these issuers enjoy investment-grade credit ratings in the local market. One of those is Anhui Railway Development Fund Co., which withdrew a note sale plan on March 19. Onshore yields jumped in the latter half of March as tumbling oil prices and the increasingly global economic crisis rattled investor nerves. The average yield on AAA rated three-year corporate bonds rose 18 basis points in the seven sessions starting March 10.
"These companies may be hoping to redo the procedures according to the current low rate levels to save costs," said Qi Sheng, chief fixed-income analyst at Founder Securities Co. "They may also be concerned that investor sentiment could have been affected by recent market volatility."