China Celebrity Stock Picker Feels Pinch on Poor Timing
(Bloomberg) -- One of China's best-known fund managers is the latest to feel the sting of a badly-timed market entry.
A private fund formed near the February market peak by Dan Bin's Shenzhen Oriental Harbor Investment Management Co. has plunged over 20% in less than three months, according to an investor letter seen by Bloomberg. That's breached a "warning line" as of May 7 that required the fund to notify investors of the declines.
Reasons cited for the losses include the poor market timing and the asset manager's partiality for sectors that have borne the brunt of the recent rout, such as makers of the local white spirit baijiu, internet retailers and other industry leaders.
Dan is among the nation's earliest private asset managers, authoring numerous books on investing and keeping a highly active profile on social media. On Tuesday, he reposted a local media report on his losses, but told his 14 million followers on Weibo that he would continue to put his own investments into the product. "This is just the warning line, not the level where funds must be returned to investors," he said.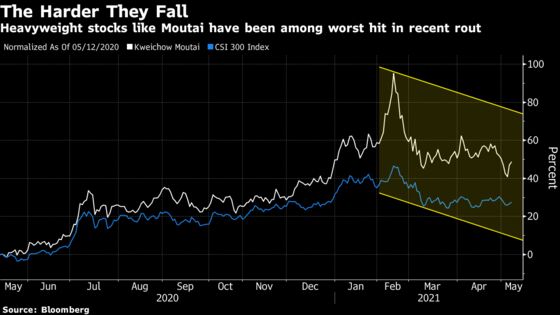 A company spokeswoman referred to Dan's post when asked by Bloomberg News to confirm the contents of the letter, adding that the fund manager had publicly responded already.
After starting with a heavy stock position, the fund has now slashed equity exposure and is now 57% cash, having offloaded stocks with high valuations starting in March, said the letter. The single largest sector in its portfolio is baijiu and wine, at 11% of total assets.
China stocks remain largely range bound after the CSI 300 Index entered a correction in March, accompanied by muted volumes, a sign of weak trading conviction. Former investor darlings such as liquor maker Kweichow Moutai Co., which helped propel a rally earlier this year to a near-record on February 18, remain about 20% off their highs.
Investors have since sold off consumer staples and electric vehicle names due to jitters over exaggerated valuations after the country's spring festival. Shares of internet giants, which had also been among the favorites, have been hit amid regulator scrutiny over monopolistic practices, with Meituan being the latest subject of investigation.