China Bucks Global Research Cuts With Record Analyst Count
(Bloomberg) -- China's brokerages have a record number of analysts on the rolls after a fourth straight year of hiring, bucking a global trend of investment banks scaling back on research.
Analysts registered with the Securities Association of China climbed to 3,225 as of Dec. 26, an increase of 8% from 2018. By comparison, headcount at 12 major global banks shrank 8% to 3,500, on pace for the sharpest annual decrease since research firm Coalition Development started collating the numbers in 2012.
The divergence underscores seismic shifts in China's $21 trillion capital markets. Rising foreign fund inflows as well as an uptick in stock and bond issuance have boosted demand for analysis on everything from the macro economy and industries to fixed-income and commodities. Policy makers are also pushing local brokerages to become more competitive in preparation for a build-up by Wall Street giants including Goldman Sachs Group Inc. and JPMorgan Chase & Co.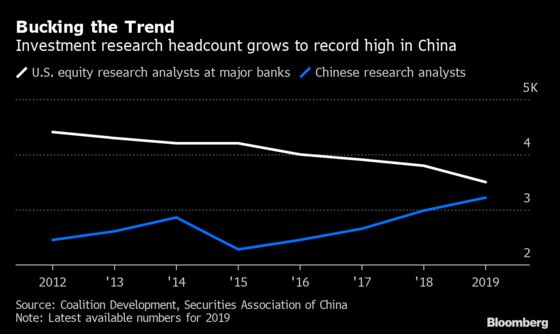 Research is becoming a core offering with even smaller firms building teams, said Liu Yuanrui, president of Changjiang Securities Co., a mid-size brokerage based in central China, which had over 90 analysts. "Every company realizes it needs one."
Globally, research has been buffeted by changes in technology and the demands of the marketplace with the rise of automation and passive funds -- trends that have been slower to catch on in China.
European rules known as MiFID II spurred the most recent wave of job cuts by forcing research costs to be separated from trading fees. Chinese firms focus on the vast domestic retail market and are largely shielded from MiFID II, which only applies to banks and brokerages that interact with European asset managers.
That's not to say analysts in China has been insulated from bad news. Compensation structures at local brokerages rely heavily on commission income from funds, something that's been falling away since the market rout of 2015.
The dwindling commission pool has pressured salaries lower. About 45% of respondents to a recent New Fortune magazine survey of over 1,000 analysts reported a salary cut over the past year, with almost a fifth saying their compensation declined by over 20%.
Analysts have been forced to focus on professional rankings to signal their abilities and boost earnings. While run-of-the-mill analysts with five years of experience make the equivalent of about $75,000 a year in China, someone on the New Fortune rankings, a hyper-competitive version of the Institutional Investor poll and China's biggest analyst contest, could easily take home $1 million or more.
Despite the questions around commissions and compensation, new research departments are popping up at smaller brokerages such as Kaiyuan Securities Co. with China's financial liberalization building optimism about new lines of business.
The Nasdaq-style STAR market launched to much fanfare earlier this year and brokers are looking for increased demand from newcomers to the asset management space, including banks' wealth management units and foreign institutional investors.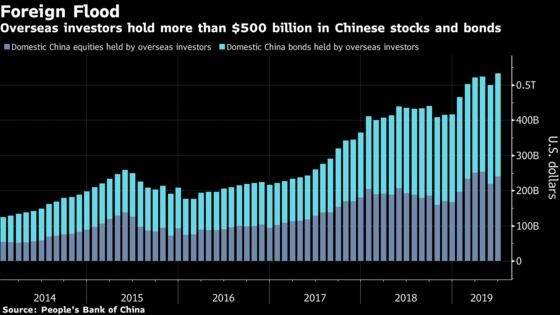 Still, Changjiang's Liu doesn't expect a significant pick up in income unless brokerages change their business models.
"Firms have to rethink the function of research teams because more profits cannot be derived from the current model," he said.