China Paves Way for Wealth Management Products to Buy Stocks
(Bloomberg) -- Chinese authorities paved the way for wealth management products to invest directly in the stock market, as policy makers try to reduce the potential risks associated with WMPs buying third-party offerings.
Commercial banks can now open accounts to invest their WMP assets straight into all "sanctioned" financial products, China Securities Depository and Clearing Corp. said in a statement on its website Wednesday. Previously the funds could only be directly invested in fixed income products. The CSDC clarified in a statement on Thursday that changes in investment scope would require approvals from regulators.
The rule change is China's latest effort to cut financial risk, a campaign that has focused on reducing the size of the nation's shadow-banking system. WMPs, asset management products offered by banks that promise yields higher than deposits, have been a driver in the growth of off-balance-sheet lending.
"The measure is aimed at reducing banks' dependence on intermediaries to invest in the stock market, a process that can often lack transparency," Yu Shao, chief economist at Orient Securities Co. in Beijing, said by phone.
WMPs can currently only gain exposure to stocks via investment products issued by other financial institutions including brokerages and trust companies.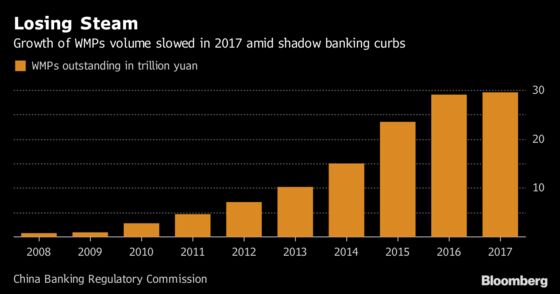 In July, regulators issued draft rules for the issuance of WMPs. Banks should limit leverage and strengthen liquidity management, the China Banking and Insurance Regulatory Commission said. The rules are due to take effect at the end of 2020.