Chile's Recovery Slowed Before Virus Surge and Vote Surprise
(Bloomberg) -- Chile's economy grew slower than expected at the start of the year before the brunt of the second coronavirus wave slammed activity and political uncertainty soared.
Gross domestic product grew 3.2% in the first quarter from the previous three-month period, less than the 3.8% median estimate from analysts surveyed by Bloomberg. The economy expanded 0.3% from a year prior, the central bank reported on Tuesday.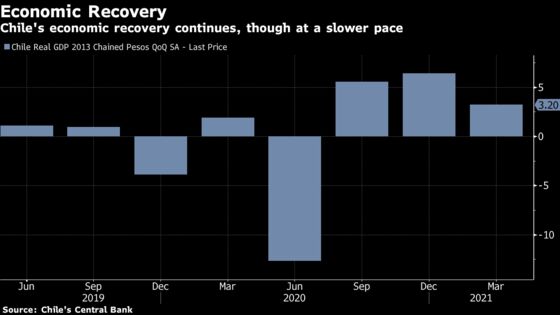 The South American nation has been boosted by a record-low interest rate, early pension withdrawals, and rising prices of copper, its main export. Still, the figures largely predate strict virus quarantines which limited movement and commerce, as well as this weekend's vote which placed the writing of Chile's new charter in the hands of independents and left-wing parties.
"The near term outlook is positive, in our view, supported by the successful vaccination program and rising commodity prices," said Andres Abadia, Chief Latin America Economist at Pantheon Macroeconomics. "But political noise is now a big economic threat."
Mining grew 1.8% in the first quarter from the previous three-month period, while domestic demand jumped by 8.8%, according to the central bank. Personal services surged by 14%, while retail and construction each rose by 1.7%.
Last month, Chile's government raised its 2021 GDP growth estimate to 6%, while analysts in the latest central bank survey expect the economy to expand 6.2% this year. Going forward, the country is expected to benefit from a rapid Covid-19 vaccine campaign and ongoing stimulus.
"Although we predict that GDP will decline in the second quarter on a quarterly basis, we continue to believe that improvement in the second half of the year will allow for an overall expansion of 7%," analysts at Inversiones Security wrote in a research note.
On the other hand, political uncertainty will remain high as Chile writes a new charter over the next year, after government-backed candidates took a drubbing in the election for the Constitutional Assembly. Key points of debate are expected to include natural resources, pensions and social services such as health care and education.
"High-frequency data are already showing signs of a recovery in activity in recent weeks," said William Jackson, chief emerging markets economist at Capital Economics. "We continue to think that Chile's recovery will outperform the rest of the region."