Chile Looks to Ease Union Tensions in Copper Industry With Transparency
(Bloomberg) -- Chile is working on ways to improve Covid-19 transparency in its giant copper industry in a bid to ease labor tensions and keep mines running through the pandemic.
Mining Minister Baldo Prokurica is looking into disseminating infection data from local health authorities, rather than just from companies. The government may also report the results of audits into how well mines are complying with virus-fighting protocols, he said in an interview Monday.
The initiatives come as unions call for limiting operations in the top copper nation as more workers fall ill, saying companies and authorities aren't doing enough to contain or communicate the outbreak.
In contrast with neighboring Peru, Chile opted to continue mining as the virus hit, implementing safety measures and demobilizing non-essential staff without sacrificing much output. For Prokurica, it's a balancing act of keeping workers healthy and much needed export revenue flowing.
"We are going to do everything in our capacity so the country can assure workers of their jobs, and at the same time have continuity, while protecting the health and safety of our workers," he said.
Earlier: Unions Push for Tougher Virus Measures in Top Copper Nation
Tensions ratcheted up last week after a worker at state-owned Codelco's Chuquicamata mine died of the disease. The minister dispatched additional inspectors to monitor the situation at mines, with 1,600 evaluations conducted so far.
On the weekend, seven groups representing workers and contractors issued a call for the government to reevaluate continuing mining operations.
"There is consensus among the unions that limiting operations is the right thing to do," said Ricardo Calderon, president of the Federation of Copper Supervisors.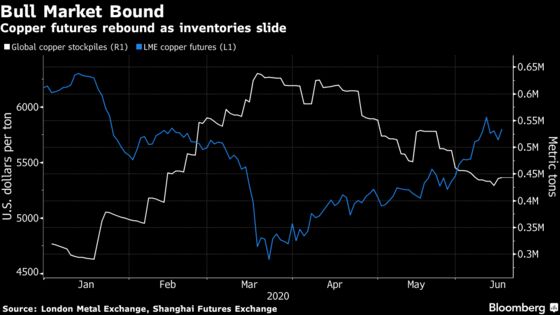 Prokurica said the industry is taking extraordinary measures to safeguard staff, including testing, distancing and demobilizing about half the total workforce. While infections are rising in the nation, mining has done better than other industries, with just 0.5% of the workforce falling ill, he said.
"There is no normalcy in the copper industry right now," Prokurica said. "We are in the most difficult phase of the pandemic in Chile."
Last year, Chile produced 5.8 million tons of copper. Current estimates from copper commission Cochilco is for the pandemic to cost about 200,000 tons this year, Prokurica said. Although, Cochilco said in a Twitter post Friday that the loss would be about 75,000 tons. A Cochilco spokesperson explained the agency has various scenarios, with the minister providing the median projection.
Despite the workforce reductions, Codelco saw production rise 2.8% year-on-year in April, while BHP Group Ltd.'s Escondida mine increased output by 11%, Cochilco reported.
Mines have been able to maintain production -- and satisfy recovering global demand -- with fewer people by working for 14 days on and 14 days off.
"We are taking extraordinary measures, with sacrifices by the workers working 14 straight days," Prokurica said. "That is a tremendous sacrifice."