Chevron Doubles Profit as Record Production Meets Oil Recovery
(Bloomberg) -- Chevron Corp. reported third-quarter profit doubled from a year earlier as production increases met rising oil prices.
Oil and gas output climbed to 2.96 million barrels per day, a record.
Chevron is the last of the major oil companies to release results for the third quarter. BP, Shell and Total have all reported earnings that beat estimates. Exxon rose this morning after beating estimates.
Chevron has a higher analyst percentage buy rating than BP Plc, Royal Dutch Shell Plc and Total SA at almost 68 percent, and, remarkably, no sell recommendations. But share performance has been worse than all its majors rivals this year, declining 11 percent even as Brent climbed 9 percent.
Chevron restarted share buybacks in the third quarter. "It will be critical to watch the pace of repurchases vs. guidance of $3 billion annually to determine whether the company will actively look for resource deals," according Fernando Valle and Jonathan Mardini of Bloomberg Intelligence
Chevron traded up 1.8 percent in pre-market trading in New York.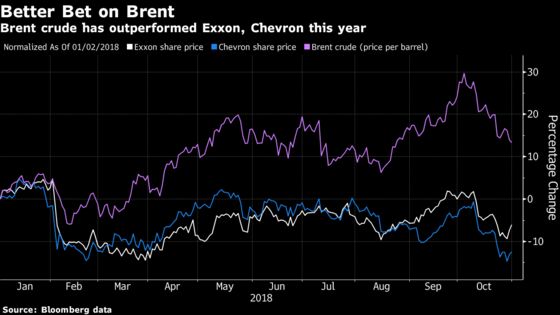 For more details on the results, click here.