Cheer Up, Theresa May. At Least This Hedge Fund Is Backing You
(Bloomberg) -- Theresa May unveiling her Brexit deal to Parliament to jeers as key members of her Cabinet resign and the pound swoons -- not the script envisioned by investors hoping for an orderly divorce from the European Union.
One of them, Michael Carras at North Asset Management, was glued to the drama as May endured three hours of hostile legislative backlash over her deal secured with EU negotiators in Brussels this week.
The London hedge fund is holding bullish positions on the pound versus the euro and closed out a short on U.K. equities last month. Carras said the pound could jump 5 to 6 percent against the single currency from current levels if the deal gets through Parliament.
ING Groep NV, meanwhile, warns sterling could fall as much as 4 percent as markets price-in a challenge to May's leadership.
"The base case must still remain that somehow this passes Parliament and on that basis you will get strength," said Carras, the head of research at North Asset. In the meantime, "there are lots of lone voices speaking out and that will continue to provide uncertainty and downside risk to equity, the pound and the rates market," he said.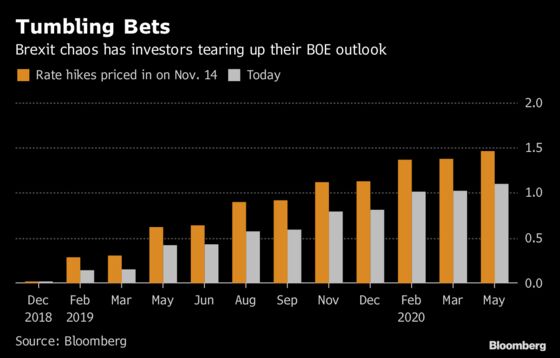 While a stronger pound is a contrarian view, it's not an outlier for those hoping for a negotiated settlement.
Pimco is also wagering on a transition deal that will lend support to the flagging currency, allowing the Bank of England to raise rates. Traders have pushed back bets on the next hike into 2020. The implied odds of a move in the spring of 2019 have dropped to 40 percent from around 60 percent yesterday.
"While there remains a game of political brinkmanship, it remains our expectation that the transition deal will ultimately be signed," Mike Amey, managing director and head of sterling portfolios at Pacific Investment Management Co., said in an email early Thursday. "This however doesn't mean the next few weeks will be without volatility."
Even so, today's trial of the prime minister by her colleagues made for uneasy viewing.
"The parliamentary vote at the moment looks to be on a knife edge," Carras said. "If it doesn't pass Parliament we'll be in very, very murky territory and there will be a significant repricing of U.K. assets."