Check Those Hedges Before Volatility Blows Up Again, SocGen Says
(Bloomberg) -- Volatility is set to increase, making this a good time for investors to reassess their hedges, according to Societe Generale SA.
After a blowup in February, traders have piled once again into short-volatility strategies, "increasing the probability of a violent swing back" when the trend reverses, SocGen strategists led by Vincent Cassot wrote in a note. He warns that broad correlation across markets is likely to return in the near term and spur higher volatility.
"A change in volatility regime is around the corner," the report said.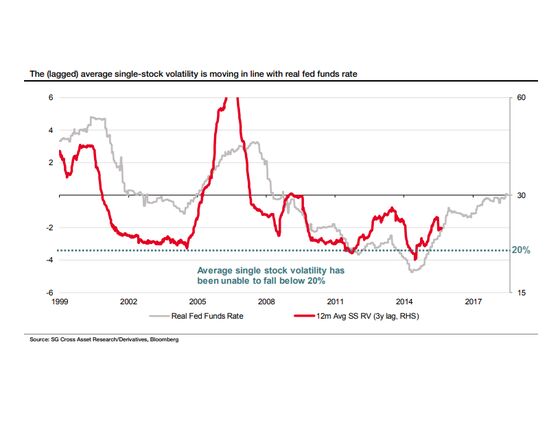 U.S. equity volatility has remained low due to factors including corporate tax cuts, the perception American stocks are safe havens relative to emerging markets and broad financial conditions, the strategists wrote. But "the risk of this type of placid financial environment is investors increasingly herding into risky trades," and "some of the volatility parameters are starting to look overstretched again."
Indeed, the Cboe VIX Index has jumped 24 percent this month as the S&P 500 Index fell from a record high toward a one-month low.
The authors conclude from an analysis of business cycles, rates behavior and equities that the market has already seen the lows in single-stock volatility. A resurgence in individual stock price swings would likely create an upward trend in equity index volatility as well.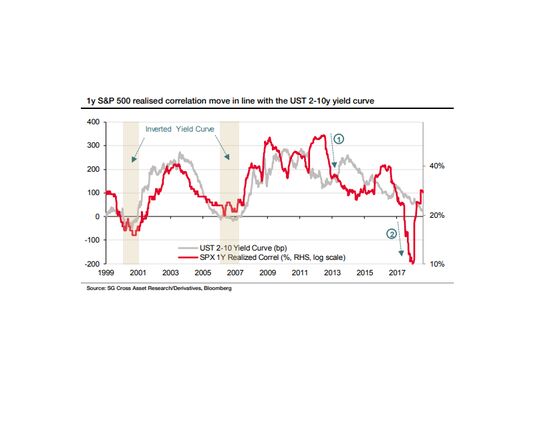 "The VIX February spike looks more like an accident than a change in regime," the report said, referring to the period when the "fear gauge" nearly tripled in two days that month and closed on Feb. 5 at 37.32. "It resonates as a useful reminder that there are always limits to imbalances, to how much the elastic can stretch. The stronger the dislocation, the stronger the likely renormalization."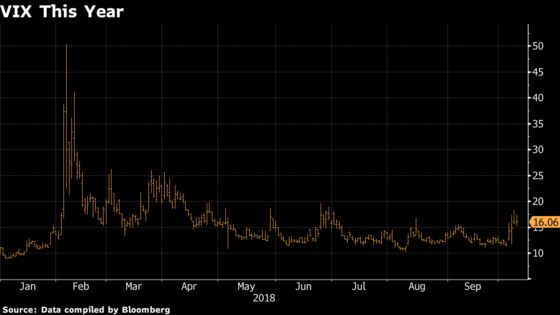 SocGen's key trades for the fourth quarter include:
Build long volatility positions while it's cheap via S&P 500 forward variance swaps
Hedge escalation risks in U.S.-China trade tensions
Hedge limited downside on the Euro Stoxx 50
Prefer core Europe and hedge Italian risk
The impact of tax cuts is likely to fade in mid-2019, while revenue growth among S&P 500 companies will probably be slowing, according to the firm. At the same time, the Federal Reserve will probably have raised rates several more times, and American companies could start feeling negative effects from trade wars, SocGen said. All that will weigh on stocks.
"The current low-volatility environment provides an opportunity to prepare for a rise in risk perception and correction of large imbalances" in the second half of 2019, the report said. "It's never a bad idea to check your safety equipment."